'Starman' – Collector's Edition Blu-ray
Category:
Blu-ray's and DVD's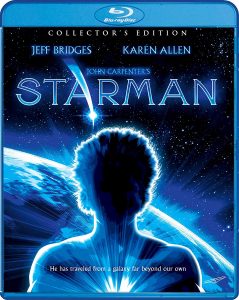 The Collector's Edition of the hit 1984 film Starman includes some interesting bonus features.  The film stars Jeff Bridges and Karen Allen and was directed by John Carpenter who took a step away from horror films to direct this sci-fi romantic comedy. Bridges was nominated for an Academy Award for his performance and viewers will understand why when they watch him as an alien visiting Earth.
After his spacecraft crashes on this planet in Wisconsin, the alien wanders around and takes the shape of Scott Hayden, a deceased man whose widow Jenny (Allen) is still mourning his loss. She is astonished to see her dead husband standing in front of her, but of course it isn't really him. It is the starman.
The starman needs her to drive him to Arizona for a rendezvous with his own kind where they will pick him up and take him home. Along the way the government is hot on their tracks as they intend on capturing this alien, not knowing his intentions.
Jenny and the starman have an interesting road trip and during their time together they fall in love. This romantic comedy is filled with humor and heart, as well as the sci-fi aspect. Viewers will undoubtedly feel the kindness of this "man" when he gives life back to a dead deer. He is a gentle soul and the ending is heartwarming.
This Collector's Edition Blu-ray includes two very interesting bonus features. There is a vintage "making of" featurette that was created during the filming of the movie. In it Bridges, Allen, Charles Martin Smith (who plays Mark Shermin), and Carpenter discuss their characters and creating this movie that has stood the test of time, although they didn't know how popular it would be at the time they made it.
There is a new 25-minute feature with Carpenter, Bridges, Smith, and script supervisor Sandy King Carpenter. They look back at their involvement with the film. Carpenter describes the movie as "an interspecies love story." He says the script was great right from the start. "It was fun," Carpenter acknowledges about making the movie. Bridges says he was given "a fascinating character" to play and took movement lessons to create this naïve and gentle starman. He also credits Karen Allen's performance as adding to his way of getting the character to the level he wanted.
The story is a road trip and the production went on the road to create the trip that the two characters were taking. They filmed in Tennessee, Iowa, Utah, and of course Arizona where the Meteor Crater is and where the alien rendezvoused with his fellow kind to return home.
Starman is a fun and sweet story. It is rated PG.
About the Author
Francine Brokaw has been covering all aspects of the entertainment industry for over 25 years. She also writes about products and travel. She has been published in national and international newspapers and magazines as well as Internet websites. She has written her own book, Beyond the Red Carpet The World of Entertainment Journalists, from Sourced Media Books, is the entertainment correspondent for Good Day Orange County, and has her own TV show, Beyond the Red Carpet, on Village Television in Orange County.
Follow her on Twitter