'Stanley & Iris' on Blu-ray from Twilight Time
Category:
Blu-ray's and DVD's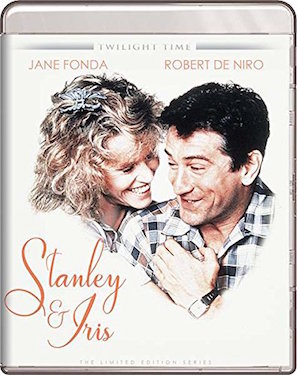 Stanley & Iris is a 1990 movie starring Jane Fonda and Robert De Niro as two people who meet and eventually fall in love. This is definitely a dramatic story with few, if any, humorous moments as the two struggle with their own lives and families.
Fonda is Iris, a mother of two trying to make a living working in the local factory while supporting her young son, teenage daughter, and housing her sister and brother-in-law who themselves are down on their luck. Iris' husband, the love of her life, passed away and she has no intention of finding another man.
Stanley is a cook in the factory's mess hall. He's barely getting by and living with his father. Stanley is hiding a secret. He cannot read or write. He is a highly intelligent man who slipped through the cracks all his life and is now paying the price.
Stanley and Iris develop a friendship and he finally gets up the nerve to ask her to teach him how to read and write. Her compassion for people is huge and she takes on this task with fervor. She works in the factory in the day and at night teaches Stanley in her kitchen while ironing and doing other tasks.
Stanley is a kind and unselfish man. Unfortunately, he has been kept back in life because he is illiterate. But his desire to learn is what ultimately breaks him out of his murky life. And he could not have done it without the equally kind and generous Iris.
This is a movie about two good-hearted people working hard to make their lives better. Iris has to deal with her grief while at the same time her family dynamic is changing as her teenage daughter realizes she is pregnant. And Stanley has his own emotional setbacks besides not being able to read. He cannot get a decent job so he has to put his father in a home for the aged to keep him fed with a roof over his head. That in itself tugs at his heart and is what eventually gives him the determination to pull himself out of the gutter and learn to read. Reading and writing are fundamental for this intelligent man who is is able to go from a ditch digger and a bathroom cleaner to an executive with an office and a medical plan. It just takes determination, hard work, and a loyal friend.
Stanley & Iris is a gloomy story until the end. It's well acted, and while the majority of the film is rather dim, the ending is uplifting.
Stanley & Iris is rated PG-13.
About the Author
Francine Brokaw has been covering all aspects of the entertainment industry for over 20 years. She also writes about products and travel. She has been published in national and international newspapers and magazines as well as Internet websites. She has written her own book, Beyond the Red Carpet The World of Entertainment Journalists, from Sourced Media Books.
Follow her on Twitter