Stages: An Autobiography by Jay Osmond
Category:
Books and Music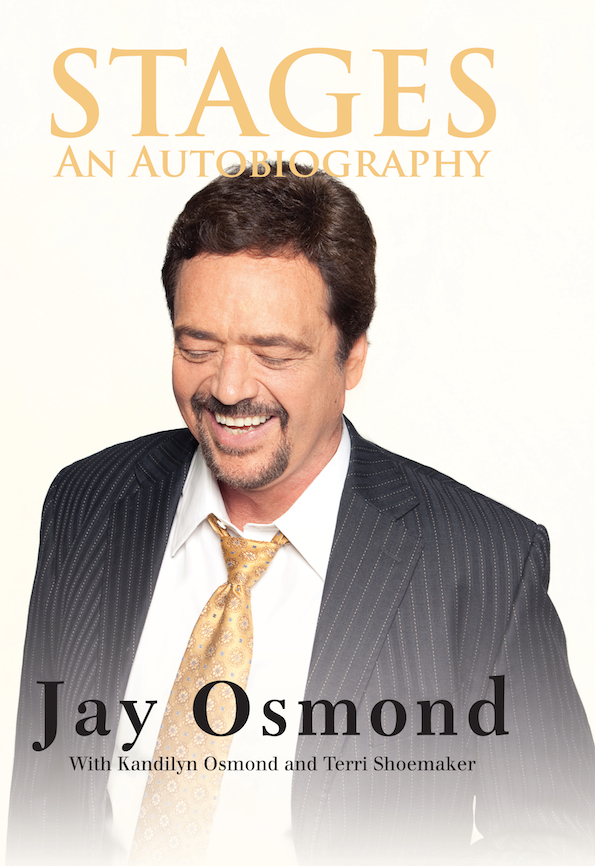 Jay Osmond has penned an autobiography about his life as an Osmond, an entertainer, a husband, and a father. While he is not the best-known member of his family – that distinction goes to Donny and Marie – Jay is one of the original singing Osmond Brothers. If you are not an Osmond aficionado, you might be wondering right now which brother he is. He is the drummer of the group, the one who regularly sits behind his brothers while beating his drums. But Jay is more than just a drummer and a singer. There is a lot of depth to this man.
Stages is a rough sketch (with an emphasis on the "rough") of the life and times of Jay Osmond. The book is set out in "acts," much like the acts of a play or film.
The opening act focuses on his early years from 1955-1960, growing up in Utah and being discovered along with his brothers in Disneyland where they performed as a barbershop quartet. Act two covers his life from 1961-1965 and the Osmond Brothers' appearances on The Andy Williams Show, which launched their singing career.
From there Jay takes the readers on a whirlwind tour of his life as the brothers began their touring and recording life then settled down to work on The Donny and Marie Show. As the times changed so did the Osmond Brothers, and Jay along with them. They turned to country music, which Jay admits he wasn't too happy about. His preference was to stay with rock, and his heart was with rock music. But in the family the majority rules and they went country – for a while.
In the book Jay writes that at times, over the course of his life, he felt out of his element. He enjoyed performing but always wanted to be just a "normal" kid, and as he matured he felt the pressures of entertaining. Was that what he was meant to do or did he belong out of show business?
Jay attended Utah State University, where he finally felt like one of the guys. He also tried his hand at several different professions, and while he was working as a counselor at BYU he met Kandilyn Harris, the woman who would become his wife. They settled down to start a family but soon Jay was back in show business along with his brothers at the new Osmond Family Theater in Branson, Missouri, where they led a fairly normal life with a regular schedule and quality family time. After Branson, there was more flux in his life and questions about what he wanted to do with it.
Through all the ups and downs, Jay Osmond always returned to the stage. It is there where he feels most comfortable, but it is also a place that causes him some anxiety.
There are some revelations in this book, which die-hard Osmond fans might not know. First are all his hesitations about show business and Jay's attempts at different professions are examined. He also divulges that he and his wife had some difficulty and separated for a brief time. They later divorced – after the book was published so this chapter, or stage of his life, is not part of the book.
While on stage with his brothers performing a karate act, his brother Alan accidentally broke his nose. Now Jay discloses it took several years for him to really forgive his brother for this accident.
Osmond also divulges that he was a player when it came to dating. He loved women and loved to flirt and date. At one time he asked a girl out on a date without realizing they had already been out on a date before. I don't know if this was a case of selective memory or a case of too many women and too little time!
What readers can expect between the covers of this book is an outline of the life of Jay Osmond. He does not go into depth in most cases, which is something his audience would like.
This book would be more interesting if Mr. Osmond would go into depth about his decisions and his experiences. Being an entertainer and in the public eye for his entire life, perhaps he felt he didn't want to expose everything, but those salacious little tidbits are what his fans would love to know. If you're reading this, Jay, consider letting us outsiders in on some of the juicy things in your next book.
Osmond includes continual references to his faith, however non-Mormon readers won't be put off by this aspect of the book as it is not done in a preaching tone.
At the end of the book, there are memories from those who have been close to him throughout his life. They reflect on the singer/drummer, and relate stories about Jay as a man.
Stages takes Jay Osmond out of the relationships of the Osmond Brothers and Osmond family. It is a sketch of the man himself; the sixth child in a family of nine; the popular drummer; the family man; and the man with questions about himself and his life. While it is not an in-depth autobiography, it does give readers a closer look at Jay and his life and concerns.
Note: Since this book was written, Jay has been divorced, become a grandfather, and has remarried. Perhaps a second book about this new stage in his life is in the offing.
About the Author
Francine Brokaw has been covering all aspects of the entertainment business for 20 years. She also writes about technology and has been a travel writer for the past 12 years. She has been published in national and international newspapers and magazines as well as internet websites. She has written her own book, Beyond the Red Carpet The World of Entertainment Journalists, from Sourced Media Books.
Follow her on Twitter
Like her on Facebook