Splitsville at Walt Disney World
Category:
Travel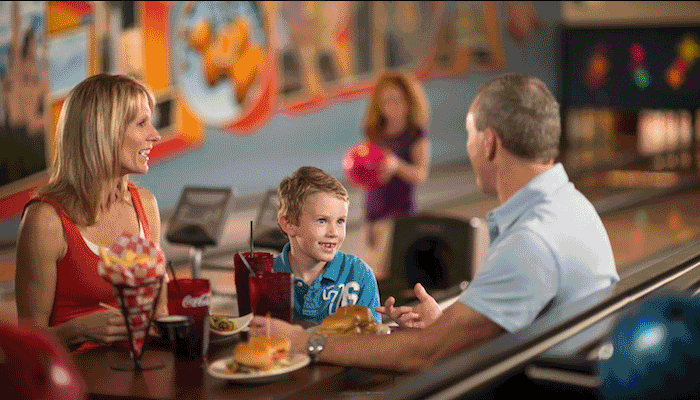 I know when people visit Walt Disney World they are usually headed for the theme parks, and rightly so. WDW Resort is absolutely amazing. There is so much to see and do in the four theme parks and the wonderful resorts. However, when you visit WDW next time, try something new. Well, almost new.
Last December a fun place called Splitsville opened in Downtown Disney at WDW. No, this is not a place for banana splits, although that does sound pretty good. Splitsville is a boutique bowling venue. Notice I didn't use the phrase "bowling alley?" It's more than just a bowling alley.
Splitsville Luxury Lanes definitely does have bowling lanes. There are 30 lanes but there are also other things to do here, like playing billiards, listening to music, or just hanging out. It's a fun place for the family to spend some together time, or for teens to spend some "get away" time.

When you walk into the place you won't find a typical bowling alley. There are two levels and the lanes are divided into little sections so there is not a long row of 30 lanes. This makes bowling and spending time with your friends and family more personal than the average bowling alley.
"Splitsville is about socialization and creating memories. In a world of smart phones, texts and social media, people need an outlet to connect in person again," said Mark Gibson, co-founder of Splitsville. "Bowling is an activity that appeals to almost everyone and the natural gaps of time between frames allows families, friends or work mates to engage in conversation, grab some sushi or encourage guests on the next lane."
When you sign up for a lane, the first thing you do is tell them your shoe size. You are given a lane number and when it's your time to bowl, your shoes are brought to you. Yep. You don't have to do anything. All you have to do is proceed to your assigned location and they take care of the rest. And the overhead scoreboard takes care of the numbers, so all you do is bowl and enjoy. Plus, for little kids, a bumper rolls out on the sides of the lanes to help them with their bowling experience. Unfortunately, I was too old for the bumper, even my score could have used all the help I could get!
And don't forget that food and bowling go hand in hand. But instead of the typical bowling alley food, you can get sushi, or any number of wonderfully prepared taste delights. Of course, they do have pizza too!
"We've created a collection of menu items that are perfect for sharing," said Guy Revelle, co-founder of Splitsville. "Whether it is sushi, sliders or pizza, customers can order combinations of food and then taste a little bit of everything. It creates a very interactive and social experience where the Splitsville concept helps 'break the ice' and allow guests of all ages to relax and enjoy their time at our luxury lanes!"
So, the next time you visit WDW in Orlando, Florida, don't forget about Downtown Disney and especially Splitsville. It's a fun place to go to get away from the hubbub of the theme parks while still enjoying your vacation and still feeling the Disney magic.
About the Author
Francine Brokaw has been covering all aspects of the entertainment business for 20 years. She also writes about technology and has been a travel writer for the past 12 years. She has been published in national and international newspapers and magazines as well as Internet websites. She has written her own book, Beyond the Red Carpet: The World of Entertainment Journalists, from Sourced Media Books.
Follow her on Twitter
Like her on Facebook