'Spencer's Mountain' is a great family film now on Blu-ray
Category:
Blu-ray's and DVD's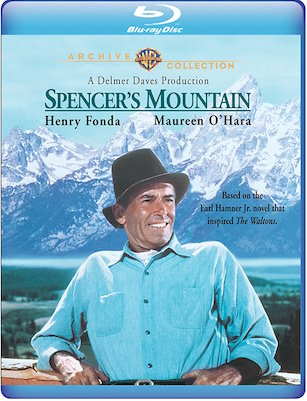 Spencer's Mountain was the foundation (no pun intended) for the popular TV drama The Waltons. From writer Earl Hamner who penned the novel as well as created the TV series, Spencer's Mountain follows the Spencer family as they raise their nine children on a beautiful mountainside in Wyoming.
Henry Fonda plays Clay Spencer with Maureen O'Hara costarring as Olivia Spencer. James MacArthur is Clayboy, aka Clay Spencer Jr. Clayboy's desire for knowledge is his driving force. He is the first Spencer to graduate from high school and he wants to go to college. The problem is he needs a scholarship because the family cannot afford the tuition and other expenses.
While the family focuses on getting the scholarship and money for their oldest child to go off to college, Clay continues to work in the quarry while building his dream house on the top of the mountain. Clayboy is being wooed by his childhood friend Claris (Missy Farmer), a willful young woman whose hormones are raging and who entices Clay into more than their usual pecks on the cheek.
Clay and Olivia have a houseful with their nine children and Clay's mother and father. His eight brothers live nearby. This large family is not the richest or the poorest family in the valley, but they are the best known. The mountain was named for them when the patriarch settled there. This story takes in three generations of the Spencer family.
There are many similarities between this movie and the TV show that aired from 1971-1981. First is the family. Viewers will see comparisons between them and the Waltons. Another is a reference to the "recipe" that two women make from their father's recipe. This concoction manages to cause a ruckus when Clay has the new minister (Wally Cox) imbibe in the liquid. The minister had never had alcohol and it quickly takes its toll on him. Unfortunately, the entire town is witness to their inebriated new minister.
Bonus features look at the town of Jackson Hole, Wyoming, the location where the film was shot. Many townsfolk played parts in the film, and the movie's premier took place there. Another bonus is a roundup of interviews with Henry Fonda when the town and the media were all gathered together preparing to view the film's premier.
Spencer's Mountain is a great family film. This 1963 movie is filled with family love and dedication. The Blu-ray release is part of the Warner Archive collection and can be ordered from their website or online retailers.