Sophia Grace & Rosie's Royal Adventure DVD
Category:
Blu-ray's and DVD's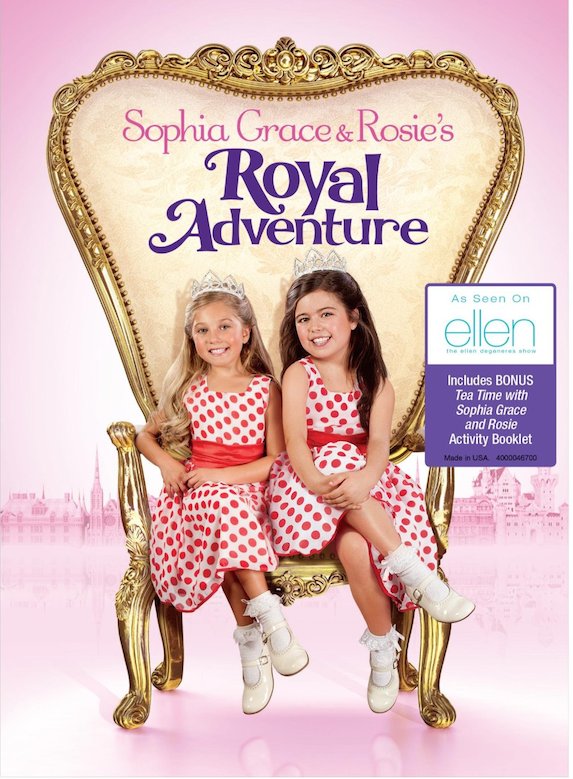 Sophia Grace and Rosie became stars thanks to their appearances on The Ellen DeGeneres Show. These little Brits are cousins and can do anything. They penned their book, Tea Time with Sophia Grace & Rosie, and now star in their first movie. Sophia Grace & Rosie's Royal Adventure is a fun story young girls will surely enjoy.
Sophia Grace & Rosie sing, dance, and now act in this raucous adventure when they are sent to the country of Switzelvania to be correspondents for the Ellen show. The girls are peppy, optimistic, and eager to experience all kinds of adventures. While in Switzelvania to cover the coronation of the new queen, their sweetness bubbles to the surface as they help one of the three princesses through a tough time.
There are three princesses in Switzelvania and only one will be crowned queen. As two sisters vie for the honor, the third is plagues by insecurities. But all it takes are the two pint sized bundles of hope and energy to inspire the princess and bring her out of her shell.
With plenty of singing, dancing, mishaps, and adventure, this is a movie in which young viewers will certainly delight as they see their little heroes tackle all kinds of situations with naiveté and joy. And I have to hand it to the little girls. They state outright that rapping is NOT singing. That's something I've been trying to convey for years. It takes these two little stars to get the message across.
With plenty of bonus features, music, singing and dancing, and the exploits of little Sophia Grace and Rosie, this DVD is filled with juvenile fun. The duo will perk up even the dullest days with their joy and high energy. And parents take note – the soundtrack is also available.
Sophia Grace & Rosie's Royal Adventure is rated G.
To download a tiara for your little princess, click here
And, for a coloring page, click here.
About the Author
Francine Brokaw has been covering all aspects of the entertainment business for 20 years. She also writes about technology and has been a travel writer for the past 12 years. She has been published in national and international newspapers and magazines as well as internet websites. She has written her own book, Beyond the Red Carpet The World of Entertainment Journalists, from Sourced Media Books.
Follow her on Twitter
Like her on Facebook