'Sonic the Hedgehog' comes home
Category:
Blu-ray's and DVD's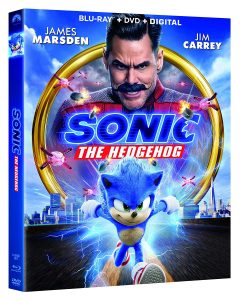 In 1991 the world fell in love with the Sega Genesis arcade character Sonic the Hedgehog. He was as popular as Mario and Pac Man. Now Paramount Home Entertainment brings the loveable little blue guy to film with Ben Schwartz voicing little Sonic.
When Sonic is being hunted on his home planet because of his superpower of speed, he is sent to Earth to live. But he cannot let anyone know he is there otherwise he will have to use one of his rings and transport to another planet. After all, superpowers are sought after throughout the universe. Who wouldn't want to be able to run from the Rockies to the Pacific Ocean and back in a matter of seconds?
Sonic spends his days watching people. He is especially fond of the local Sheriff Tom Wachowski (James Marsden), whom he calls "The Donut Lord" because of his relationship with the doughy goodies. But when his temper is riled up because he is very lonely, Sonic causes a power outage that gets the attention of the military. So they send Dr. Robotnik (Jim Carrey) to find the source of this destruction. Robotnik is not a nice guy. As a matter of fact, he's a villain
With Robotnik on his trail, little Sonic is discovered by Tom who accidentally makes the little fellow lose his rings that will transport him out of danger. Together they must track down the rings and keep Sonic safe. Along their journey they come across some interesting characters and Sonic get his famous red shoes.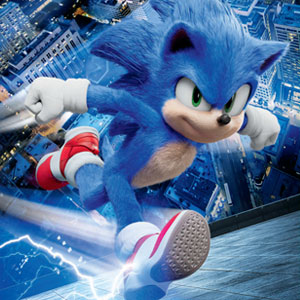 The story is about love, friendship, and family and is a fun way for adults to relive their days playing the game and for kids to discover the genuine goodness and comedy of Sonic.
In the Blu-ray and 4K releases are several bonus features. There are some deleted scenes and a blooper reel. Jim Carrey discusses taking on the role of Robotnik. Sonic takes viewers on an 80 second tour of the planet. Ben Schwartz shows viewers how Sonic came to the screen via the technology and imagination of the filmmakers. Perhaps the most interesting bonus feature is a history of Sonic – his origins and little behaviors that captured the hearts and minds of gamers of all ages. He was created to be the rival of Nintendo's Mario, and he certainly gathered loyal fans around the world. He is definitely a fun loving little guy.
The home entertainment release date is November 24, 2020. It comes with four collector's cards and makes a great holiday gift and stocking stuffer. The little blue guy is a character the whole family can love. Sonic the Hedgehog is rated PG for action, some violence, rude humor and brief mild language.
About the Author
Francine Brokaw has been covering all aspects of the entertainment industry for over 25 years. She also writes about products and travel. She has been published in national and international newspapers and magazines as well as Internet websites. She has written her own book, Beyond the Red Carpet The World of Entertainment Journalists, from Sourced Media Books, is the entertainment correspondent for Good Day Orange County, and has her own TV show, Beyond the Red Carpet, on Village Television in Orange County. She is a longstanding member of the Los Angeles Press Club and the Television Critics Association.