'Something Wonderful: Rogers and Hammerstein's Broadway Revolution' by Todd S. Purdum – Book Review
Category:
Books and Music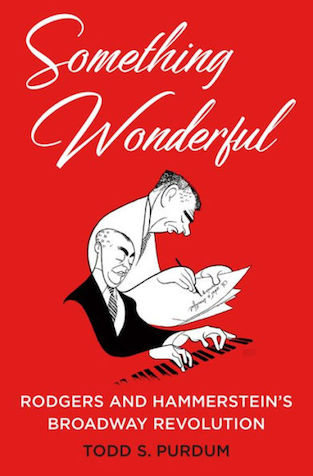 It's not secret that Richard Rogers and Oscar Hammerstein shaped American musical theater, and thereby musical films. In this delightful new book, Something Wonderful: Rogers and Hammerstein's Broadway Revolution, their personal lives as well as their professional collaborations combine to form a well-rounded look at the men and their legacies.
Oklahoma (1943), Carousel (1945), State Fair (1945), South Pacific (1949), The King and I (1951), Cinderella (1957), Flower Drum Song (1958), and The Sound of Music (1959) all rank among the best loved musicals of the twentieth century. And every one of these mega Broadway hits made their way onto the big screen. And interestingly enough, each of these stories was tied to the American lifestyle and touched the hearts of the audiences in ways that reflected the intricacies of the country. The book closely examines the history of this great collaboration. As Purdum states about the songs, "They are woven seamlessly into the fabric of American life as 'The Star Spangled Banner' or 'Home on the Range.'"
Throughout the pages, readers get insight into how the songs we know and love came to be. And there are plenty of instances where the lyrics are printed out. It's impossible not to sing the songs when reading the lyrics. This book is like an interactive experience.
One of my favorite stories is South Pacific. Reading how the story came to be from the collection of stories, Tales of the South Pacific by James A Michener, and then how the production came to be is an interesting story in itself. Then, learning how the songs came together is the icing on the cake.
The two men made history and even won a Pulitzer Prizes. Their shows broke Broadway records.
Whether you are interested in the personal quirks of the men (Hammerstein was stingy), their marriages, or their working relationship, it's all in this book. This is the quintessential book about Richard Rogers and Oscar Hammerstein.
• Hardcover: 400 pages
• Publisher: Henry Holt and Co. (April 3, 2018)
• Language: English
• ISBN-10: 162779834X
• ISBN-13: 978-1627798341
About the Reviewer
Francine Brokaw writes about products, travel, and entertainment. She has been published in national and international newspapers and magazines as well as Internet websites. She has written her own book, Beyond the Red Carpet The World of Entertainment Journalists, from Sourced Media Books.
Follow her on Twitter