Some Animated Holiday DVDs
Category:
Blu-ray's and DVD's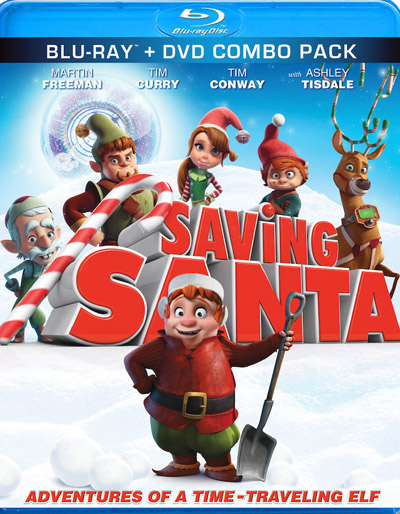 It's that time of year again. Holiday-themed DVDs are hitting the shelves. While buying all of them is probably not an option for your family, here are several different animated holiday films for the kids in your home. Check them out and see which ones your kids will enjoy.
Saving Santa
This is a clever and entertaining new movie filled with music and the spirit of the holidays. Saving Santa is the story of Bernard elf (voiced by Martin Freeman) who wants desperately to be one of Santa's inventors. He has invented some gadgets that feels will be fun and contribute to the Christmas spirit.
Unfortunately, Bernard discovers that due to a little glitch, he unintentionally put Santa and the North Pole in danger. So, being the inventive little fellow he is, he takes Santa's time globe and goes back in time to undo the damage he has done. But when that doesn't work he does it again. So, little Bernard ends up reliving the same day three times. His main job in the North Pole is that of pooper-scooper for the reindeer, but due to his cunning and spirit, he makes a friend and confidant of Santa.
The theme is "never give up" which makes this a fun and wonderful little holiday movie. This is definitely an original little Christmas movie that will be enjoyed year after year. I highly recommend this enjoyable holiday story.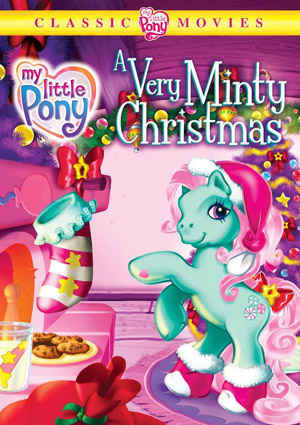 My Little Pony: A Very Minty Christmas
Little bumbling Minty accidentally wrecks the big candy cane atop Ponyville's Christmas tree. The candy cane is like a beacon, so how will Santa find them if it is shattered into a million pieces? Minty and Thistle set off for the North Pole, with the others on their heels, to help Santa find Ponyville.
The moral to this story is it doesn't matter what's in your presents that counts, but what's in your heart. The ponies all band together and discover their love and caring for each other was enough for Santa to find his way to Ponyville.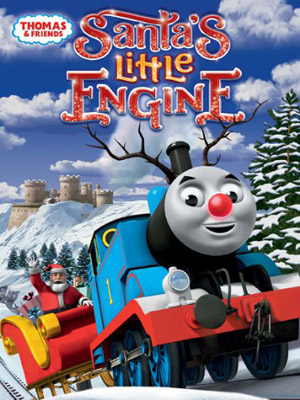 Thomas & Friends: Santa's Little Engine
Five chilling episodes featuring Thomas the Tank Engine and his friends focus on Christmas and wintertime. "Santa's Little Engine", "No Snow for Thomas", "Frozen Turntable", "The Missing Christmas Decorations", and "Snow Tracks" combine to make this DVD a winter wonderland of excitement. Thomas plays the role of "Thomas the red-nosed engine" and Gordon decides to avoid advice about maneuvering the icy tracks. There are plenty of winter stories to keep Thomas-loving kids occupied.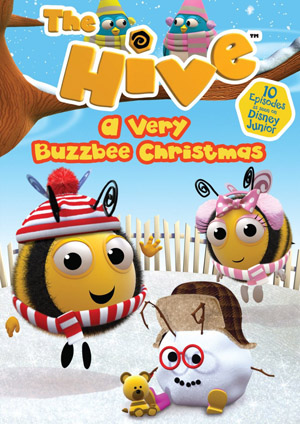 The Hive – A Very Buzzbee Christmas
This DVD is not entirely about Christmas but it does include two Christmas episodes from the Disney Junior TV series. Buzzbee and his family live in Honeybee Hive and he exhibits all the emotions of a little boy, even though he's a bee.
The two Christmas-themed episodes revolve around Buzzbee who finds himself in situations little kids often experience. In "Babee's First Christmas" Buzzbee is jealous of the attention his baby sister is receiving for her first Christmas. Why is she getting all the attention? And in "The Night Before Christmas" Buzzbee questions the existence of Papa Christmas. Eight other episodes round out this DVD, which will make young viewers "happy as a honey bee."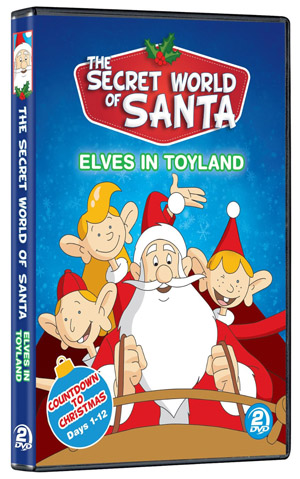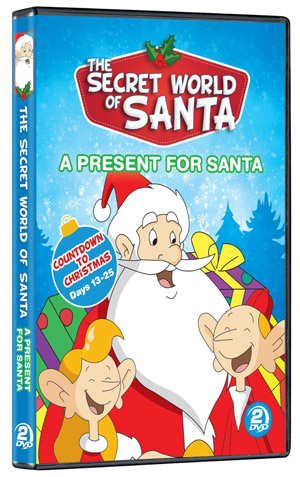 The Secret World of Santa
For something a little different this year, The Secret World of Santa set of DVDs countdown to Christmas. It's like getting a little present every day. The first box contains 13 little North Pole stories and the second disc box contains 12 different animated stories. They each revolve around what Santa and the Elves do on their "off" days, aka Christmas.
Pop in a DVD each day from December 1 until Christmas and watch a different story leading up to the big day. It's kind of like an Advent Calendar; only it's better because kids are entertained with a cute little story every day. How's that for something different this year?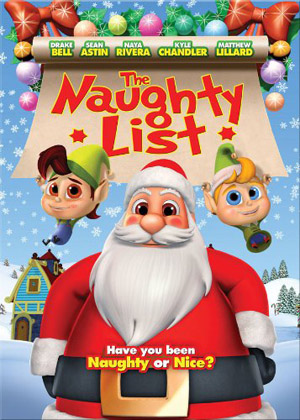 The Naughty List
What happens to two mischievous young elves and a young spirited reindeer when they don't follow the rules of the North Pole? They get put on the Naughty List, and that means they have additional chores, which are unpleasant and not what they're used to.
Winter and Snowflake are brothers and, thanks to winter's feisty behavior, they land on Santa's Naughty List, along with a rebellious reindeer named Sparkle. The three of them are given chores to perform which they do, but in unconventional ways, causing more and more problems for the residents of the North Pole. Let's not get into what happens when they are put in charge of the cooking! In the end, it is up to the trio to save Christmas. They finally learn the lesson "Think of others" which lands them back on the Nice List. This is a cute little film with the voice talents of Sean Astin, Drake Bell, Kyle Chandler, and Naya Rivera and appropriate for young viewers.
About the Author
Francine Brokaw has been covering all aspects of the entertainment business for 20 years. She also writes about technology and has been a travel writer for the past 12 years. She has been published in national and international newspapers and magazines as well as Internet websites. She has written her own book, Beyond the Red Carpet: The World of Entertainment Journalists, from Sourced Media Books.
Follow her on Twitter
Like her on Facebook