Sofia the First: The Floating Palace on Disney Junior
Category:
Television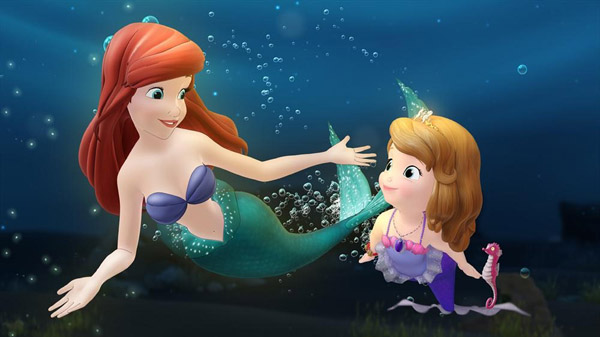 Disney's youngest princess stars in her first Primetime special. Sofia the First: The Floating Palace is filled with magic and fun as the little princess and her family set sail on their floating palace for a fun filled summer vacation.
Once the family reaches their destination, Maraway Cove, a secluded cove where King Roland vacationed when he was a boy, the fun begins. Well, it's not all fun. Actually there is a lot of danger. Sofia's enchanted necklace (the Amulet of Avalor) transforms her into a mermaid when she is in the water. How cool is that?
Sofia meets a friendly and curious young mermaid. Oona is a princess too. She has an enchanted comb; only Oona hasn't learned the power it holds. Unfortunately, Cedric the Sorcerer knows full well the power it contains and he sets out to capture Oona and take the enchanted comb for his evil scheme to take over the kingdom.
Oona's life somewhat parallels Princess Ariel's. Ariel's friend was a fish named Flounder and Oona's friend is a seahorse named Sven. Ariel's father has a trident and Oona's mother has a trident. And, they are both young mermaid princesses. The two little mermaids share a common background and their families both distrust humans. And, hold onto your tails, Ariel makes an appearance in this special. Disney legend Jodi Benson reprises her role of Ariel, who comes to assist Sofia. After all, the Disney princesses all stick together!
When Sofia sets out to rescue Oona from the "Sea Monster" – who is really Cedric – she discovers the power of love and family. Whether they are mermaids or humans, "We're all devoted to our families."
The two worlds collide in an amazing undersea adventure focusing on the love of families. "In sea or air, the love we share" is what makes life worth living.
Sofia the First: The Floating Palace premiers Sunday, November 24, 2013 on Disney Junior. This is a wonderful story of love, friendship, and family that is enjoyable for everyone. It's filled with music, magic, and mayhem.
Sofia the First is cable's #1 series for kids ages 2-5. It's also the #1 preschool cable TV series in total viewers and women ages 18-49. Everyone enjoys the little princess and her adventures. Mark your calendar for this adorable new special.
About the Author
Francine Brokaw has been covering all aspects of the entertainment business for 20 years. She also writes about technology and has been a travel writer for the past 12 years. She has been published in national and international newspapers and magazines as well as Internet websites. She has written her own book, Beyond the Red Carpet: The World of Entertainment Journalists, from Sourced Media Books.
Follow her on Twitter
Like her on Facebook