Sofia the First: The Enchanted Feast DVD
Category:
Blu-ray's and DVD's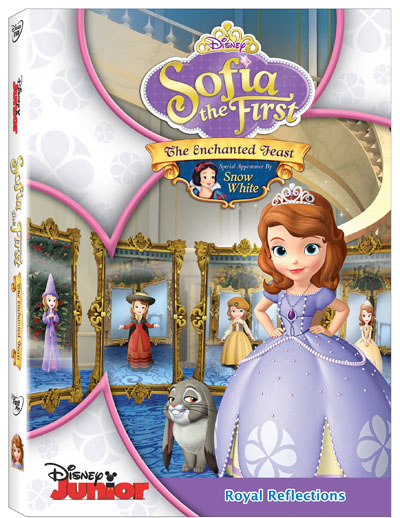 Sofia the First is one of Disney Junior's popular series bringing the fun of childhood together with royalty. Little Sofia is a Disney princess-in-training, and she, along with her family and friends, have some pretty fun adventures.
This new DVD includes five episodes from the hit series. The title episode, "The Enchanted Feast", is filled with the magic and wisdom associated with this little princess. Fans of the show know that Sofia wears a special amulet that, when she needs additional help and inspiration, summons one of the other Disney princesses. In this case it is Snow White who makes an appearance when Sofia's instinct tells her one thing and everyone else tells her something different. Sofia knows there is something not right with Sascha the Sorceress, who abruptly appeared in time for the Tri-Kingdom enchanted feast. In fact, Sascha is really the evil fairy Miss Nettle in disguise. It is Snow White who helps her trust in herself and ultimately save the feast and everyone there.
In another episode titled "The Buttercups," Sofia goes with her troop (including two new members Peg and Meg) on a hike into the forest. Sofia was a Buttercup before she became a princess. Being overly concerned about his new daughter, the king is apprehensive about the hike and doesn't want anything to happen to her so he instructs Baileywick to accompany he with the instructions not to let her get even a scratch. Unfortunately, in order for Sofia to earn her badges, she must perform tasks herself, but Baileywick insists he does them for her. In the end, everyone realizes that in order to learn and grow, kids need to do things themselves, even if it means a scratch or two.
"Two Princesses and a Baby" is a fun episode in which Sofia's new sister and brother (Amber and James) are about to celebrate their birthday. Being twins they always celebrate together, but this year Amber wants the day to herself. A wish turns James into a baby, and with that comes a lot of trouble for the girls. Baby James is definitely a handful, but a cute one!
"Tea for Too Many" and "Great Aunt Venture" are the final episodes on this DVD. Just FYI, Aunt Venture is a hoot! She's full of energy and exuberance.
A bonus included in the box is a small hand-held mirror. It reflects (pun intended) the storylines of the Morpho Mirrors and Snow White in "The Enchanted Feast." It's just a little extra fun that is included with the five enchanting episodes and original songs.
Sofia the First: The Enchanted Feast is rated TV-Y. Even though it is meant for young viewers, adults will enjoy it too. After all, who doesn't love a little princess or a princess-in-training?
About the Author
Francine Brokaw has been covering all aspects of the entertainment business for 20 years. She also writes about technology and has been a travel writer for the past 12 years. She has been published in national and international newspapers and magazines as well as internet websites. She has written her own book, Beyond the Red Carpet The World of Entertainment Journalists, from Sourced Media Books.
Follow her on Twitter
Like her on Facebook