'Snowtime!' – Movie Review
Category:
Movies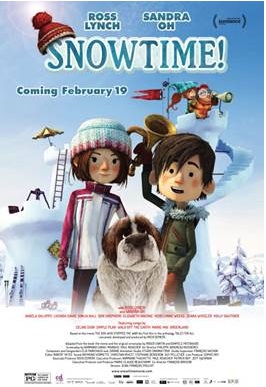 Snowtime! is a new animated film based on the live-action film La Guerre des Tuques (The Dog Who Stopped the War.) The premise of the story is that on their 2-week winter break from school, a group of kids (around 11 years old) would build a snow fort and there would be a war to capture it. At the end of the vacation, the group who occupied the fort wins the war.
First off, it might be disturbing to parents to have little kids playing at war. But as we all know, kids have snowball fights and build forts in the winter, so this is just an extension of that. What happens in the story is unsettling and will undoubtedly be very emotional for many viewers.
Spoiler Alert: One of the little boys has a friendly and loveable St. Bernard named Cleo. She goes to school with him, plays with him and his friends, and is part of their group. She is a slobbering little – ahem big – dog who enjoys being with the kids and they enjoy being with her. She is "the dog who stopped the war" in the story, but she does this by dying. Yes, this is an emotional and very disturbing part of the film.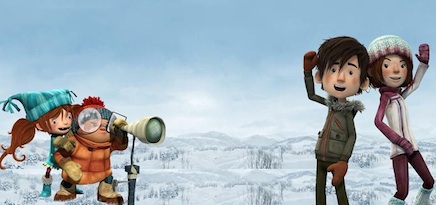 The movie is about war and loss. One of the little boys had father who was killed in a war and he is still grieving and getting over that loss. Luke still feels the pain of his father's death. And then when Piers' dog Cleo is killed by the snow war, everyone else learns about grief and loss.
The film brings up the subject of war and consequences of actions. According to Producer Marie-Claude Beauchamp, "The character Piers is carrying the other big message: You have to overcome the loss of someone dear to you. Luke's father died in war and Piers lost his dog. These are terrible and sad events but they are part of life and we show the audience that as sad as these events are, you grieve and you go on." She said the third message in the film is friendship.
On the surface Snowtime! is a cute little story of kids and winter fun. But it quickly becomes a story with a message about war, consequences, grief, friendship, loss, and camaraderie. Yes, it is disturbing because of the death of Cleo. For many parents this is something to consider before taking your child to the theater. It is definitely a tearjerker and will affect kids – and adults. Cleo was my favorite character in the film and I was entertained by her antics and love of life.
Snowtime! is rated PG for mild thematic elements and rude humor. It opens in theaters February 19, 2016.
Francine Brokaw has been covering all aspects of the entertainment industry for 20 years. She also writes about products and travel. She has been published in national and international newspapers and magazines as well as Internet websites. She has written her own book, Beyond the Red Carpet The World of Entertainment Journalists, from Sourced Media Books.
Follow her on Twitter