'Snow White' Disney Signature Collection
Category:
Blu-ray's and DVD's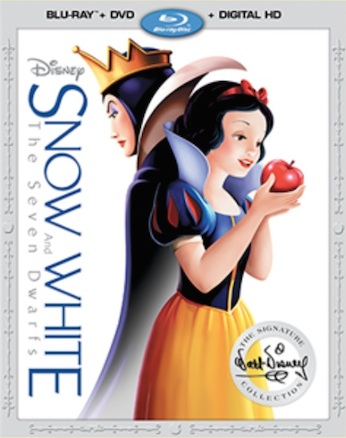 The latest and greatest from Disney Home Entertainment is their Signature Collection, and launching this new collection is Disney's first animated feature film – and Disney's first princess – Snow White and the Seven Dwarfs. Along with the classic movie in which the young princess meets a group of seven little fellows and ultimately goes off to live with the love of her life, there are plenty of bonus features that add to the understanding of this great undertaking.
The new Disney princess Moana is about to be introduced later this year and join the list of cherished characters that are beloved by all ages. Snow White was the first Disney Princess and all aspects that went into designing this animated character are examined. Another featurette looks at the men behind the legendary "nine old men" who were instrumental in the character development. There is also a look at an exposure sheet, which is "a treasure map" to how a scene is put together. This is interesting film history, even for those who aren't into animation.
There's a look at "iconography" which shows how pop culture and art have been affected by this movie, as well as an alternate scene in which Disney himself talks about how he envisioned a scene to play out. There is also a little feature containing seven facts you might not know about the making of the movie, two deleted scenes, and two vocal reenactments from story meeting transcripts.
Working for Walt Disney looks like a fun place to be and in the Hyperion Studio Tour, viewers see the fun as well as the work that employees of the studio encountered on a daily basis. The success of Snow White enabled Disney to build the Walt Disney studio.
"In Walt's Words" is an amazing bonus that looks at the entire movie through the eyes and words of Walt Disney. The silent movie Snow White was the first big feature film he saw as a boy. The story remained with him throughout his life. He knew making a full-length animated feature of the story would not be a mistake and, as he says, he had to "train" his people to make it exactly as he envisioned. "With every laugh there must be a tear."
Perhaps the most enlightening and fun bonus feature is "Snow White Returns." While researching for this new edition, something wonderful was uncovered in the Disney research library. It was the proposal for another Snow White story. It might have been plans for a sequel or simply an animated short. People were clamoring for more with the beloved characters. What was discovered was an outline utilizing the two deleted scenes and incorporating them into a story where Snow White returns to the forest for her annual visit with the dwarfs. It would be nice to see something like this come to fruition fleshed out a little more completely.
Additional bonus features add to the background and wonder of this iconic film.
Snow White and the Seven Dwarfs Signature Edition is rated G.
About the Author
Francine Brokaw has been covering all aspects of the entertainment industry for 20 years. She also writes about products and travel. She has been published in national and international newspapers and magazines as well as Internet websites. She has written her own book, Beyond the Red Carpet The World of Entertainment Journalists, from Sourced Media Books.
Follow her on Twitter