SNOW DAYS AT THE LA ZOO
Category:
Activities, Performances, & Events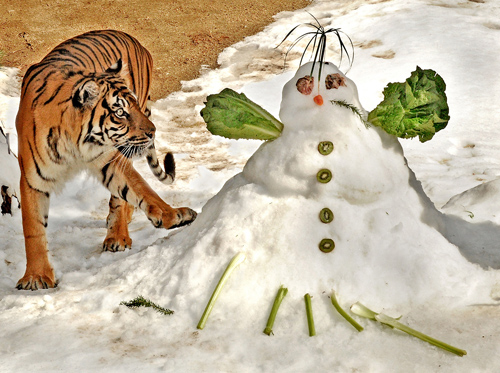 Saturday, January 24
Sunday, January 25, 2015
10 am to 4 pm
Los Angeles Zoo and Botanical Gardens
WHAT:  Early weather reports predict a snowstorm at the Los Angeles Zoo on Saturday and Sunday, January 24-25, 2015, but the chilly conditions will last only through the weekend during SNOW DAYS AT THE LA ZOO.  The wintery fun features a rare opportunity to watch inquisitive animals exploring snowy wonderlands in their habitats and more.  All activities are free with paid Zoo admission, which is $19 for general admission (ages 13 to 61); $16 for seniors (ages 62+), and $14 for children (ages 2 to 12).  No ticket is required for children under 2.  Admission for Greater Los Angeles Zoo Association members is free.
WHEN:  Saturday, January 24 and Sunday, January 25; 10 am to 4 pm
WHERE: The Los Angeles Zoo and Botanical Gardens is located in Griffith Park at the junction of the Ventura (134) and Golden State (5) freeways.  5333 Zoo Drive, Los Angeles, CA  90027.  Free parking is available.  For additional information, contact (323) 644-6042 or visit www.lazoo.org