Sleeping Beauty Diamond Edition
Category:
Blu-ray's and DVD's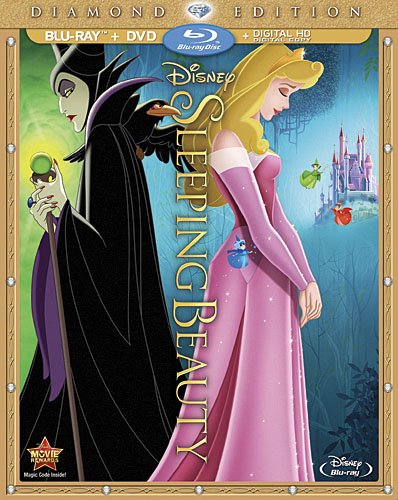 This 1959 film is a family classic. The story is filled with everything a fairy tale should have. Sleeping Beauty is a wondrous story of true love.
Once upon a time – or, I should say Once upon a dream – a princess was born to a king and queen. She would have had a royal childhood if it weren't for Maleficent, the "mistress of all evil." Princess Aurora was being granted one gift from each of the three good fairies – Flora, Fauna, and Merryweather – when Maleficent appeared and put a curse on the baby. By the time of sunset on her 16th birthday, the girl would prick her finger on the spindle of a spinning wheel and die. Flora and Fauna had already gifted the child with their gifts of beauty and song. Luckily for Princess Aurora, Merryweather had yet to give the princess her gift. Not being able to undo the curse, she added that the princess would only sleep until she was awakened by true love's kiss.
The three fairies, dressed like peasant women, take the child to an abandoned cottage. There they raise the princess until it is safe for her to return to the castle. During her 16 years with the fairies, Aurora is called Briar Rose and knows nothing about the fairies, her parents, or Maleficent.
The day before her 16th birthday Briar Rose meets a young man while in the forest and they instantly fall in love. Unbeknownst to her he is Prince Phillip, the man to whom Aurora is betrothed.
Maleficent's curse is hanging over the kingdom, and, to make a short story shorter, it comes to fruition. But Flora, Fauna, and Merryweather are on hand to help Phillip undo the evil by arming him with a shield of virtue and a sword of truth.
The bonus features on this Diamond Edition included two deleted scenes and an alternate scene, all in storyboard format. Another feature has Sarah Hyland telling the story of how all the characters in the Magic Kingdom's Fantasyland created their magical parade. Yet another bonus looks at the Disney villains who are described as "the most expressive" characters. And Brittney Lee, one of the creative forces behind many of the Disney animated films, shows viewers how to create a three dimensional sculpture of Maleficent out of paper. A look at how they restored the film and a "making of" feature are also included.
With good fairies, an evil mistress, a beautiful princess, a charming prince, some fun animals, an enchanted kingdom, and a memorable theme song, this is definitely a fairy tale for the ages – all ages. The three fairies are filled with fun and are always good for a laugh. They are definitely entertaining characters.
The Diamond Edition includes a Blu-ray+DVD+Digital HD copy code. With the classic film and all the bonus features, this is truly an enchanting edition with great color and sound. Technology and effects aren't needed with this film – and were not available when it was produced. It is a simple, classic fairy tale and with the restoration, watching it in high definition is a delight.
Sleeping Beauty is rated G.
About the Author
Francine Brokaw has been covering all aspects of the entertainment business for 20 years. She also writes about technology and has been a travel writer for the past 12 years. She has been published in national and international newspapers and magazines as well as internet websites. She has written her own book, Beyond the Red Carpet The World of Entertainment Journalists, from Sourced Media Books.
Follow her on Twitter
Like her on Facebook