Sleep Inn in Scottsdale, Arizona
Category:
Travel

If you're planning on visiting Scottsdale, Arizona for business or pleasure, think about staying at the Sleep Inn. It's part of the Choice Hotels, which includes Comfort Inn, Comfort Suites, Quality, Clarion, Rodeway Inn, MainStay Suites, Suburban, and EconoLodge.
Sleep Inn isn't filled with bells and whistles. There is no restaurant or bar in the hotel, however they are adjacent and plenty more are within a few miles.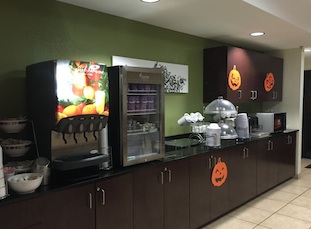 Included in your stay is a free hot breakfast that includes several options, one of which is a Belgian waffle. If you're watching your weight, you can get yogurt and fruit. In the afternoon fresh cookies are complimentary for all guests. A fitness room and outdoor pool and spa are also part of the facility.
One thing I look for whenever I travel is free parking. I find it appalling when a hotel charges to park your car. I also require free Wi-Fi. Both parking and Wi-Fi are free as well as a daily USA Today and Wall Street Journal.
Sleep Inn has a complimentary shuttle service that will take guests anywhere within a 5 mile radius. Just call the front desk and let them know you want to go to a specific location. If it's in range, you don't have to drive yourself or find a taxi.
Another personal preference of mine is a non-smoking hotel, not simply non-smoking rooms. This hotel fit the bill.
So, what was our room like? Granted, it wasn't huge but it was comfortable. We had a choice between two queens or one king bed. All of the rooms are the same size so select which option best fits your needs. The shower was fabulous. I really enjoy a stall shower instead of a bathtub/shower combination. This shower was a pleasure to use.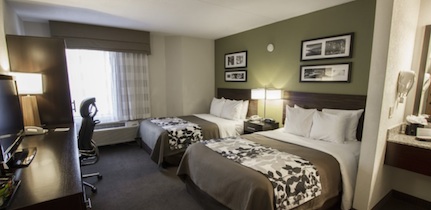 The room also included a microwave and refrigerator. Let me tell you how handy it is to have a refrigerator in the room, especially if you want something cold to drink in the middle of the night or a place to put your leftovers from dinner. This might seem like a small thing, but for many travelers a refrigerator is a convenience that comes in handy.
Having stayed in several different hotels in Scottsdale, I can honestly say I will return to the Sleep Inn. It's comfortable, convenient, and clean. Plus, the staff went out of their way to help all guests. This was without a doubt the friendliest hotel staff I have ever encountered. Since my stay there was not specific to travel writing, the staff wasn't aware that I would be writing a review. Usually when a hotel knows a reviewer is staying there they go out of their way to make them comfortable in hope of getting a good review. This time the staff went out of their way without any ulterior motive.
All of the staff deserves a thumbs up, and especially Nick, the Director of Operations.
Sleep Inn is located at 16630 Scottsdale Road. Their direct phone number is 480-998-9211. The nationwide phone number is 866-477-6424.
About the Author
Francine Brokaw has been covering all aspects of the entertainment business for 20 years. She also writes about technology and has been a travel writer for the past 12 years. She has been published in national and international newspapers and magazines as well as internet websites. She has written her own book, Beyond the Red Carpet The World of Entertainment Journalists, from Sourced Media Books.
Follow her on Twitter