"Sixteen Candles" is still going strong
Category:
Blu-ray's and DVD's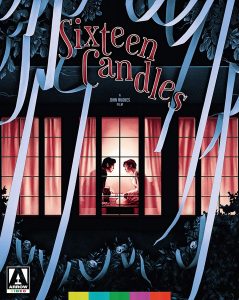 The 1984 teen romantic comedy Sixteen Candles was the first directing job for John Hughes who went on to bring audiences plenty of films about young people starting out in life. This movie also gave rise to two young actors, Molly Ringwald and Anthony Michael Hall who both had experience prior to this film but whose popularity skyrocketed after the release of Sixteen Candles. They worked together the following year on Hughes' popular teen film The Breakfast Club, which also included John Kapelos who appears in both films.
Samantha (Ringwald) is turning 16, but everyone in her house has forgotten about her birthday because of the upcoming wedding of her sister. Sixteen is a difficult time for teens and with all the family drama Samantha has more than the usual teen problems. And let's add her crush on Jake (Michael Schoeffling), an older student who does not seem to know she exists. How can she impress this guy? He's one of the cool kids in school and she is not actually one of the geeks, but not one of the popular kids.
The movie has several family scenes involving Samantha and her parents and siblings, as well as her two sets of grandparents who have descended on the house for the nuptials of her sister. These two pairs of grandparents are quite different from each other but all of them love their grandchildren with all of their hearts.
So, while Samantha is facing her birthday without any familial recognition and she is pining over Jake while everyone is focused on the wedding, there are plenty of occasions for fun and frolicking.
This newest Blu-ray release includes some wonderful bonus features. There is a nice feature with Jackie Burch, the casting director on the film. She discusses how she found the actors to fit into the movie, which had been written by Hughes with Ringwald in mind for the starring role. It is interesting to learn that Viggo Mortensen read for the part of Jake, but once she saw Schoeffling, she knew she had the right actor to play the heartthrob.
The film is described as an 80's fairy tale. It is not only a story of teens, but also of family. Kapelos discusses his relationship with the film, which was filmed in Chicago and says in the 1980s Chicago was "a cool place." There is also a bonus with Adam Rifkin who played the "new wave nerd" in the show. He describes how he was personally selected from all the extras to play this particular role.
Sixteen Candles is rated PG for pervasive language, violent references, strong racy content, and drug use.
About the Author
Francine Brokaw has been covering all aspects of the entertainment industry for over 25 years. She also writes about products and travel. She has been published in national and international newspapers and magazines as well as Internet websites. She has written her own book, Beyond the Red Carpet The World of Entertainment Journalists, from Sourced Media Books, is the entertainment correspondent for Good Day Orange County, and has her own TV show, Beyond the Red Carpet, on Village Television in Orange County.