'Sinatra in Palm Springs: The Place He Called Home'
Category:
Blu-ray's and DVD's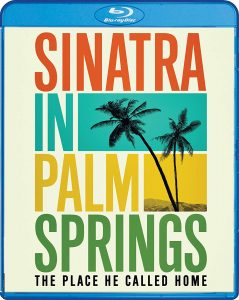 This documentary, Sinatra in Palm Springs: The Place He Called Home, is not only about Frank Sinatra's life in the desert community, but the history of Palm Springs itself. With interviews with his friends and business associates in the city, the film is a well-rounded look at the time Sinatra called Palm Springs his home, how it changed over the years, and why he loved it so much.
While most people think Beverly Hills was Sinatra's home, he considered Palm Springs his true home. This was where he felt the most comfortable. It was where he had a lot of friends (many of whom followed him out to the desert town), where he enjoyed his food and libations, and was able to let down his hair, so to speak, and just be Frank. When he was in Palm Springs, looky-loos, autograph hounds, or photographers didn't bother him. He was a regular part of the community. Well, as regular as Frank Sinatra could be.
What is interesting about watching this film is seeing how sparse the town was back in the day. Today it is a jam-packed town that connects to the other cities in the area. It's difficult to know where one city ends and another begins. But back then the area was quiet, peaceful, and sparse. It would have been a haven for anyone in the public eye, and it was. But it was Sinatra who made it as important a location as it became. While Bob Hope held his golf tournament there, it was Sinatra who really brought notoriety to the town.
Sinatra's homes were what we now call "mid-century modern" but back then they were simply called "modern." He moved from his initial modern home to his "compound" with several outlying bungalows, each named after a movie or a Sinatra song. With swimming pools, tennis courts, and plenty of booze, this was the location people wanted to be invited to spend their time.
The restaurants Sinatra frequented are looked at in the film. And there is not one person who has anything bad to say about Sinatra. Although he did have a temper and he even joked he was bipolar. But Sinatra was a unique man. He was nocturnal and loved to go riding along in the desert at night.
This could be a travelogue about Palm Springs in the 50's, 60's and 70's. But it has, at its heart, the influence and life of Frank Sinatra.
Bonus features include a look at his terrible driving, his sense of style, his compound, his generosity, and many other incidental aspects of his life.
Palm Springs and his compound, which he called his "heaven", were definitely a comfortable place for celebrities back then. And the mafia had a policy of "hands off" when it came to Palm Springs. This was where even they enjoyed their vacations.
Palm Springs was a haven for celebrities, sports people, presidents, and yes, the mafia. Today it is much different, but back then, well, it looked like some place I would have enjoyed to be part of the community. Unfortunately times change, but this documentary takes viewers back in time to the "good-old-days" of the mid 1900s and the time when Frank Sinatra stood guard over the town called Palm Springs.
Sinatra in Palm Springs is not rated. It is available on DVD and Blu-ray.
About the Author
Francine Brokaw has been covering all aspects of the entertainment industry for over 25 years. She also writes about products and travel. She has been published in national and international newspapers and magazines as well as Internet websites. She has written her own book, Beyond the Red Carpet The World of Entertainment Journalists, from Sourced Media Books, is the entertainment correspondent for Good Day Orange County, and has her own TV show, Beyond the Red Carpet, on Village Television in Orange County.
Follow her on Twitter