'Silk Stockings' on Blu-ray
Category:
Blu-ray's and DVD's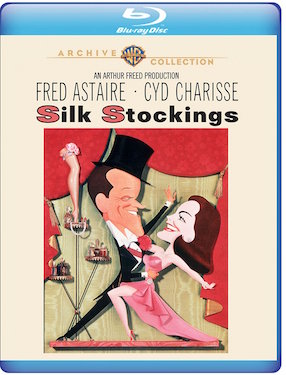 The 1957 movie Silk Stockings is a musical version of the 1937 comedy Ninotchka with Greta Garbo. Fred Astaire, Cyd Charisse, and Janis Paige star in this film filled with plenty of Cole Porter music, singing, and especially great dancing.
A Russian composer visiting Paris undertakes the job of writing music for a new American musical film in France. When the Russian authorities hear about this, they send three agents to bring him back. Peter Lorre, George Tobias, and Jules Munshin play the bumbling Russians who fall in love with the decadence of Paris. Then a more serious agent is tasked with bringing them all back to Russia. Ninotchka, aka Nina (Charisse), is a no-nonsense by-the-book totally committed to the Soviet system woman. But after her introduction to the capitalist life in Paris by movie producer Steve Canfield (Astaire), her life changes dramatically.
Of course, Canfield and Nina fall in love but when she returns to Russia after a misunderstanding, he is not granted a visa to go to Russia to explain. With the two of them separated by not only national boundaries but ideological boundaries as well, it looks like they will never get together. But as we know with the tradition of classic musicals, love conquers all.
What makes this film as entertaining as it is are the fabulous dance numbers. Both Astaire and Charisse are consummate dancers in their own right and when paired together they make everything look easy and beautiful. This film reunited Astaire and Charisse who had appeared in the 1953 musical The Band Wagon. Silk Stockings was the last great musical from MGM and was nominated for two Golden Globes.
Bonus features on this Blu-ray include a documentary, "Cole Porter in Hollywood: Satin and Silk," hosted by Cyd Charisse. Charisse talks about her career and the input Porter had during the filming of this musical. She also discusses her own experience with the movie. To play this Russian agent she had to add a Russian accent to her acting repertoire. There is also a music menu so viewers can watch their favorite number over and over again. Another fun bonus is a short film titled "Paree, Paree" with a very young Bob Hope. Singing, dancing, and comedy make this a fun short (21 minutes), not to mention the fun of seeing Bob Hope in this 1934 film.
Silk Stockings is part of the Warner Archive Collection. Fans of the great Hollywood musicals, and the MGM musicals in particular, have loved this movie since it first hit the big screen. Now it has been re-mastered for Blu-ray for a bright, colorful, and brilliant presentation of this classic film.
About the Author
Francine Brokaw has been covering all aspects of the entertainment industry for 20 years. She also writes about products and travel. She has been published in national and international newspapers and magazines as well as Internet websites. She has written her own book, Beyond the Red Carpet The World of Entertainment Journalists, from Sourced Media Books.
Follow her on Twitter