Shrek the Musical on DVD
Category:
Blu-ray's and DVD's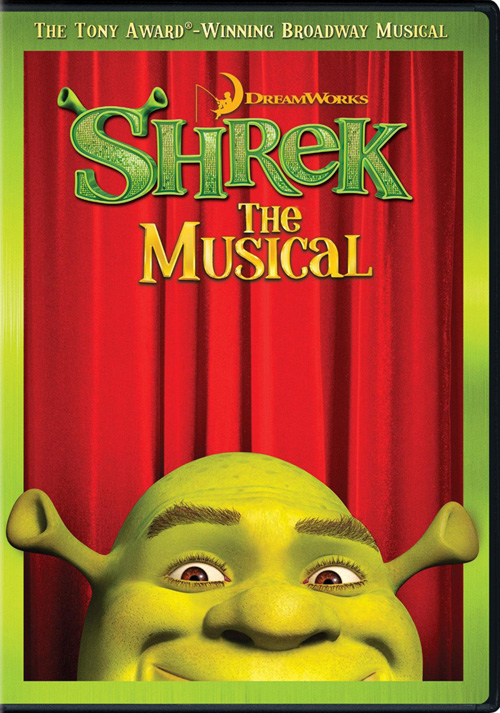 If you have seen Shrek the Musical on Broadway, you know it is filled with fun music, dances, and entertaining moments. If you haven't been to NYC, here's your chance to see this Tony award-winning musical in your own home.
Besides the characters from the original Shrek film, which have become endearing to many young viewers, this show adds more depth to their backstories and includes musical numbers that will delight even the youngest viewers. It begins when 7 year-old Shrek is sent out on his own and takes up residency in the familiar swamp we know from the film. After that, the fairytale creatures come to live in the swamp so Shrek goes in search of Lord Farquaad to get them out. Then he meets donkey, they head out to rescue Princess Fiona (who has been waiting 8423 days to be rescued by her romantic vision of a hero), Fiona and Shrek fall in love, and you know the rest.
This is a different view of the familiar story with more depth than the film, and 17 songs that add to the entertainment of the show. Sutton Foster (of Bunheads fame) and Brian d'Arcy James (most recently from SMASH), play Fiona and Shrek with charm, charisma, lightheartedness, and spirit. Shrek the Musical is part of the Fox Home Entertainment Holiday Collection.
About the Author
Francine Brokaw has been covering all aspects of the entertainment business for 20 years. She also writes about technology and has been a travel writer for the past 12 years. She has been published in national and international newspapers and magazines as well as Internet websites. She has written her own book, Beyond the Red Carpet: The World of Entertainment Journalists, from Sourced Media Books.
Follow her on Twitter
Like her on Facebook