Shirley Valentine on DVD
Category:
Blu-ray's and DVD's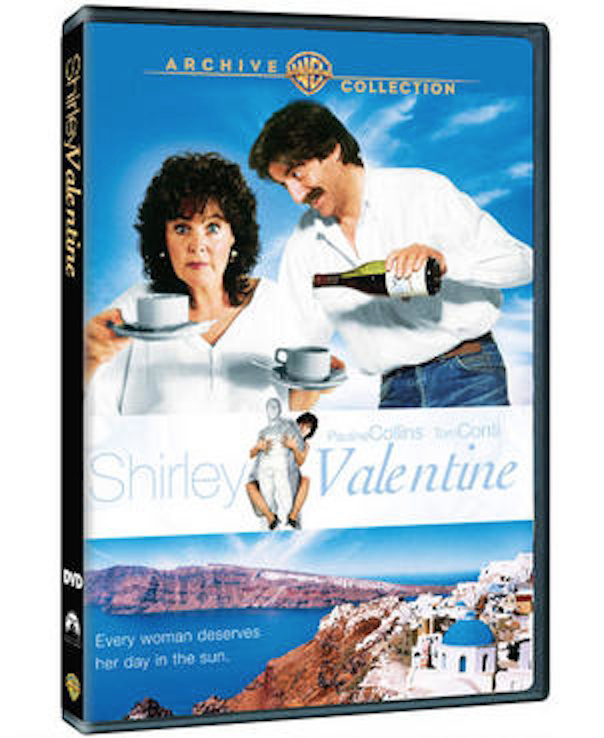 Pauline Collins stars in this delightful story of one woman's journey to self-discovery. Shirley Valentine is a fun and sensitive movie with a great performance by Collins.
Shirley Valentine Bradshaw (Collins) is a middle-aged homemaker in Liverpool. Her life revolves around her family who takes her for granted. Her husband Joe (Bernard Hill) demands his dinner be on the table at a certain time and barely notices his wife. Shirley longs for some excitement in her life, but she is too insecure and afraid to do anything about it.
When her friend wins a trip for two to Greece, she asks Shirley to accompany her. But how can Shirley leave her duties at home? It turns out, quite easily. Shirley decides to get out of her rut and experience a little of what the world has to offer.
Once in Greece, Shirley slowly opens up and starts to spread her wings. She is a caring woman who only wants some fun in her life, instead of living every day for her family. Why can't she have a little splurge after all the years she dedicated to her family? She remembers her rebelliousness as a young woman and wants to get some of that back. Where did her life go and why is it going so quickly?
Shirley meets Costas (Tom Conti), a Greek man who has a way with women. He coaxes her into spending time alone with him and gets her out of her shell – and her clothes. For the first time in her adult life, Shirley Valentine Bradshaw is having fun and re-discovering her inner self and her sexuality.
When she doesn't return to England at the end of her vacation, Joe, who has finally learned what she means to him, decides that she is worth fighting for. This experience has been a lesson for both of them, and they have each learned that Shirley is a great woman.
This is an entertaining film with many enjoyable scenes. For women who feel neglected by their husbands, it's a fun story that might inspire others to learn to appreciate themselves.
Shirley Valentine is a 1989 movie based on a play. It's rated R and not appropriate for young viewers. Shirley Valentine is part of the Warner Archive Collection and available from their website at www.wbshop.com.
About the Author
Francine Brokaw has been covering all aspects of the entertainment business for 20 years. She also writes about technology and has been a travel writer for the past 12 years. She has been published in national and international newspapers and magazines as well as Internet websites. She has written her own book, Beyond the Red Carpet: The World of Entertainment Journalists, from Sourced Media Books.
Follow her on Twitter
Like her on Facebook