'Shimmer and Shine' Season 2 Premiers June 15, 2016
Category:
Sneak Peeks & Trailers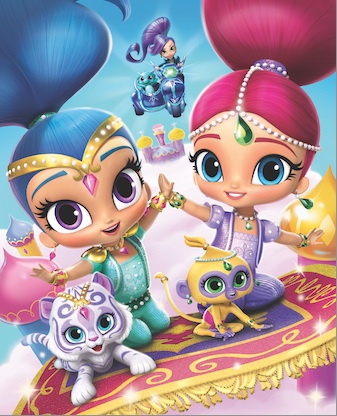 Shimmer and Shine follows the adventures of twin genies-in-training, Shimmer and Shine, and features a social-emotional curriculum highlighting the importance of teamwork, resilience and overcoming obstacles. The series is currently the number-one preschool show in its time period on all TV and new episodes will continue to roll out throughout the summer. Shimmer and Shine airs regularly at 12 p.m. (ET/PT) on Nickelodeon, the top network for preschoolers and kids 2-11.
Season two of Shimmer and Shine features an all-new vibrant look with CG animation and, for the first time ever takes place entirely in the exciting genie world of Zahramay Falls. In the new episodes, Shimmer and Shine embark on more magical adventures with their human best friend Leah and encounter brand-new characters including: Zeta, a power-hungry sorceress who uses potions and spells to scheme against the genies; Nazboo, Zeta's loyal pet dragon; Samira, a kind genie princess; Roya, Samira's beautiful pet peacock; and Kaz, Zac's new genie and friend.
On Wednesday, June 8, Nickelodeon will pre-release "Welcome to Zahramay Falls" on NickJr.com, the Nick Jr. App, VOD and across select digital platforms. Additionally, NickJr.com and the Nick Jr. App will air exclusive two-minute looks from season two. Additionally, on Monday, May 30, NickJr.com will launch the Shimmer and Shine: Genie-rific Creations, a game that allows preschoolers to work with Shimmer and Shine to design their own unique genie. Users can customize their genie by choosing different hairstyles and outfits, selecting an animal for a pet and creating a special genie palace.