'Sheriff Callie's Wild West: Howdy Partner!' DVD
Category:
Blu-ray's and DVD's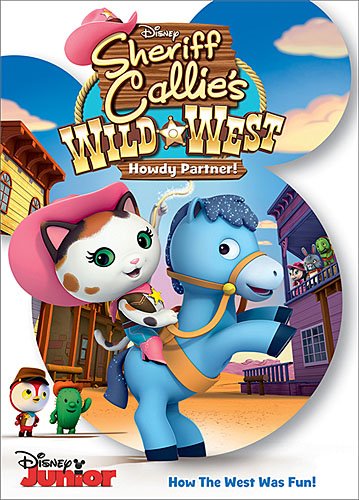 Five episodes from the popular Disney Junior preschool series combine in this new DVD. Ten complete stories featuring Sheriff Callie and her friends are filled with plenty of songs and fun. Sheriff Callie's Wild West: Howdy Partner is a disc parents can feel good about playing for their kids.
Sheriff Callie keeps the peace in Nice and Friendly Corners. Callie is a cat and her deputy, Deputy Peck, is a woodpecker. Toby is an adorable little cactus that hangs out with Callie and Peck. There are all kinds of animals in this Wild West. They sing and talk, and even dance. The one notable animal that doesn't speak is Callie's horse Sparky.
The episodes in this collection are:
• Train Bandits/A Dirty Dusty Apology
• Sparky's Lucky Day/Peck's Bent Beak
• Toby the Cowsitter/Callie's Blue Jay Blues
• The Pie Thief/Fool for Gold
• Moustache Toby/Doc's Cheatin' Chili
Sheriff Callie is a singing, guitar playing, roping gal who always comes to the aid of the town. In "Train Bandits" they are on their way to a roping contest of sheriffs when a mean gang of thieves robs the train. It is a "sticky up." All the riders get taped to the seats and the walls. That's a sticky up. Then to make matters worse, the bandits dislodge the passenger car so it is up to Callie to choose whether to save the passengers or go after the bandits. In true form, Sheriff Callie is able to do both.
In "Sparky's Lucky Day" the horse is eager for the barrel-racing contest. While practicing the little fellow slips and is too afraid to continue. As they all tell him, "accidents happen." The message here is to try again and they manage to build up Sparky's confidence so he can race.
In "Moustache Toby" the little cactus wants to be a rough and tough cowboy like his fictional hero. When Callie brings a mechanical bull to town for a party, Toby decides a large moustache like his hero is just what he needs so he can ride the bull like a pro.
With characters like Dirty Dan and Dusty, Priscilla Skunk, Farmer Stinky, and a whole bunch of others, the cast of this show is a fun group that preschoolers enjoy and adore. Their stories are cute and filled with songs and good lessons.
Sheriff Callie's Wild West: Howdy Partner! DVD is rated TVY for young viewers. Wrangle up your posse and head on out to the Wild West for some rootin' tootin' good times.
About the Author
Francine Brokaw has been covering all aspects of the entertainment business for 20 years. She also writes about technology and has been a travel writer for the past 12 years. She has been published in national and international newspapers and magazines as well as internet websites. She has written her own book, Beyond the Red Carpet The World of Entertainment Journalists, from Sourced Media Books.
Follow her on Twitter