'Shelby: A Magical Holiday Tail' on DVD
Category:
Blu-ray's and DVD's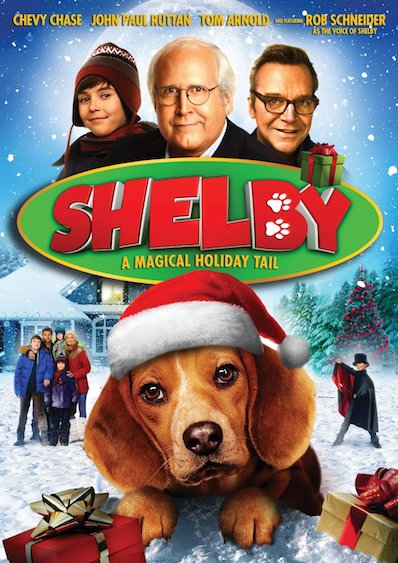 It's Christmas time which also means time for magic, family, and love. Shelby: A Magical Holiday Tail is a sweet story for families starring an adorable Beagle who is voiced by Rob Schneider.
Jake (John Paul Ruttan) is a lonely 10-year-old little boy. He is also an aspiring magician and spends his time practicing his craft. Jake's uncle, cousin, and grandfather (Chevy Chase) are coming to spend the holiday with his family. His mother says "Sharing your misery with your family" is what Christmas is all about."
Shelby is a freedom-loving and often mischievous stray dog who has been held at the animal shelter for about two years. Doug the dogcatcher (Tom Arnold) has his hands full with this little guy. The beagle is continually escaping and being chased and ultimately caught by this man. But when a rich kid comes to the shelter and decides to adopt the little dog, Doug sees this as his chance to place the pup in a stable home. Plus he is looking forward to the large amount of money the kid's mother promises him. But then Shelby escapes and she gives him 24 hours to catch the dog or the deal is off.
In the meantime, Shelby finds a warm suburban basement in which to hide. This basement happens to be in Jake's house. Jake's mother is adamantly opposed to dogs. So Jake hides the pup and names him Shelby after his magician idol.
Things go awry for everyone in this madcap family adventure. When his folks discover that their son has befriended Shelby, Jake tells them "Without Shelby I've got nobody." Still, they decide that the dog must go back to the shelter.
It is up to Jake and the tactical team he puts together to rescue Shelby from the shelter once and for all and make him part of his family.
The face and antics of the little dog and the entertaining character played by Chevy Chase are the most entertaining parts of this film. The message in this holiday tale, or I should say tail, is that family is what Christmas is about and the true joy of Christmas is making other people happy.
"Magic can make the impossible possible" however it is love that makes the magic happen. This is a story of love, friendship, and especially family.
A side note: According to the Beagle Freedom Project, "Beagles are the breed of choice for labs because they are gentle." To help protect these family-friendly dogs, check out beaglefreedomproject.org.
About the Author
Francine Brokaw has been covering all aspects of the entertainment business for 20 years. She also writes about technology and has been a travel writer for the past 12 years. She has been published in national and international newspapers and magazines as well as internet websites. She has written her own book, Beyond the Red Carpet The World of Entertainment Journalists, from Sourced Media Books.
Follow her on Twitter