Shalom Sesame The Complete Series DVD Set
Category:
Blu-ray's and DVD's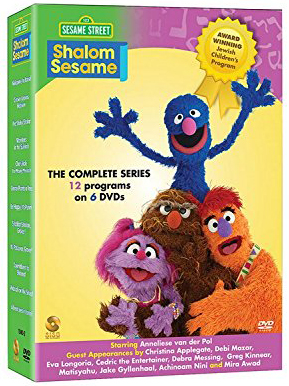 The Shalom Sesame The Complete Series DVD collection makes a great gift or just a fun addition to any Jewish household with young children. There are six DVDs, each with two Shalom Sesame episodes, and some bonuses as well.
The episodes have a variety of guest stars popping in to see what's going on and add some fun to the shows. Greg Kinnear, Jake and Maggie Gyllenhaal, Debra Messing, Eva Longoria, Christina Applegate, and more stop by Shalom Sesame. Like the American version, this show emphasizes vocabulary, the alphabet, counting, and ideas.
For instance, everyone learns about "Mitzvah" when a storm ravages the street. They help each other to rebuild the street and clear out the debris. Helping each other out is a "Mitzvah." And when Avigail is home sick, Grover goes on a "Mitzvah Mission" to visit his friend and bring her some chicken noodle soup. Helping a friend is a "Mitzvah." There are other Mitzvahs in this episode, combined with plenty of learning opportunities for youngsters.
If your household isn't fluent in Hebrew, I recommend using the "subtitle" option so everyone will hear all the words. Then, after awhile the subtitles won't be necessary. That's the beauty of Sesame. Learning is inherent in the shows.
Not only are Hebrew words, phrases, and numbers part of the shows, but also Jewish customs are featured on the discs. Learn about Chanukah, Sukkot, Shavuat, Shabbat, Purim, and other holidays and customs of the Jewish faith. Customs and Jewish culture is front and center on each of these episodes, as are Jewish values, and even locations in Israel are highlighted.
The Muppets we all know and love are front and center in these adorable episodes. And even little Ernie sings his famous "Rubber Ducky" song in Hebrew. What could be cuter?
Combining Muppets, humans, songs, sights, vocabulary, numbers, traditions, and holidays, Shalom Sesame is a delightful way to celebrate Jewishness in your home. It has all the great aspects of the Sesame Street with which we all grew up, and adds the Hebrew and Jewish aspects as well.
The discs are available individually, however I highly recommend this Complete Series all in one box. Shalom Sesame is an Award Winning Jewish Children's Program, and will be a treasured show in any Jewish home with youngsters.
For more videos, games, and parent resources, check out: www.shalomsesame.org.
About the Author
Francine Brokaw has been covering all aspects of the entertainment business for 20 years. She also writes about technology and has been a travel writer for the past 12 years. She has been published in national and international newspapers and magazines as well as internet websites. She has written her own book, Beyond the Red Carpet The World of Entertainment Journalists, from Sourced Media Books.
Follow her on Twitter
Like her on Facebook