Seth MacFarlane Great Songs from Stage & Screen
Category:
Books and Music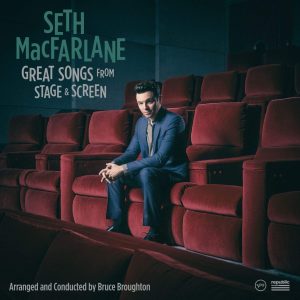 Seth MacFarlane is known for his writing and producing (Family Guy, The Orville, American Dad, and more) and his acting and voice talent, but what many people do not know is that he is also a singer. He has several CDs and his latest, Great Songs from Stage & Screen, includes many favorites from film and Broadway.
MacFarlane has a strong and mesmerizing voice that adds to these wonderful songs and his interpretation of the lyrics comes through with zeal. It is enjoyable to listen to these songs and hear them in a new and enjoyable way.
The first track, "Once Upon a Dream" is from the Disney film Sleeping Beauty. "Ten Minutes Ago" is from the Rogers and Hammerstein version of Cinderella, so there are definitely songs for all ages.
Frank Sinatra is a difficult act to follow however MacFarlane does it with style. He sings several songs that were recorded by Sinatra and he does so with his own flare, which makes them easy to listen to and easy to forget that Old Blue Eyes had previously recorded them. There is a special magical quality to MacFarlane's voice that comes through in each and every track.
The lyrics are even more enjoyable with great orchestrations. It is easy to imagine him in the recoding studio singing with the wonderful orchestra. These tracks were recorded at the famous Abbey Road studios.
Listening to his recordings I have decided that even though I have enjoyed Seth MacFarlane in his other roles, I really love his singing the most. Although his acting/writing/producing is pretty good too! His recordings are delightful and rich. I do have some favorite tracks on this CD however all of the songs are delightful. There are several ballads as well as a few upbeat tunes. The collection is the perfect blend of songs personally selected by MacFarlane.
Seth MacFarlane is among my top male vocalists and with this new release he has moved up many notches. The bottom line is this is a fantastic collection of songs sung by a great singer. This is his sixth studio album and definitely a treasure. All the songs are available on digital and the CD will be released in October.
The tracks are:
1.         Once Upon A Dream
2.         I Loved You Once In Silence
3.         Let's Not Be Sensible
4.         Ten Minutes Ago
5.         Ain't Got A Dime To My Name (Ho Ho Ho Ho Hum)
6.         Love Is Only Love
7.         What Did I Have That I Don't Have?
8.         Come Out, Come Out, Wherever You Are
9.         Two For The Road
10.         All Er Nothin'
11.         You'd Be So Nice To Come Home To
12.         Mind If I Make Love To You
13.         Time For Parting

About the Reviewer
Francine Brokaw writes about products, books, travel, and entertainment. She has been published in national and international newspapers and magazines as well as Internet websites. She has written her own book, Beyond the Red Carpet The World of Entertainment Journalists, from Sourced Media Books, is the entertainment correspondent for Good Day Orange County, and has her own TV show, Beyond the Red Carpet, on Village Television in Orange County. Follow her on Twitter.