'See How They Run' now available on demand
Category:
Television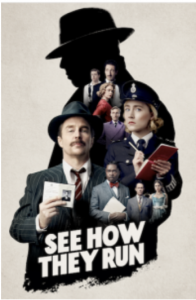 See How They Run is a blast from the past. It's a mystery within a mystery – a murder within a murder. This is an old-fashioned who-done-it story starring Sam Rockwell and Saoirse Ronan in a tale that weaves mystery, sarcasm, and intrigue.
The film takes place in the 1950s in London's West End theater district. An elegant theater is putting on the play The Mousetrap, which is being considered for a Hollywood movie. The Agatha Christie story has captured the attention of audiences with its twists and turns, which is exactly what this movie does as well. It is as though Christie wrote the story of See How They Run.
When a crewmember is murdered, Inspector Stoppard (Rockwell) is assigned the case. He is also assigned rookie officer Constable Stalker (Ronan) who is eager to solve the case. Her enthusiasm is over-the-top and she sees the culprit in everyone. Her eagerness is somewhat disheartening to the veteran inspector. The best part about the film is the relationship between these two very-different officers. "Stoppard is pretty broken when we meet him," says Ronan. She describes her character as "very, very green, new to the job and eager, that's really where the story begins." Ronan adds, "They change each other unexpectedly, he helps her grow up a little bit, and she helps him find some of his vivacity and the energy he used to have."
The play, The Mousetrap, ran for 68 years. The who-done-it weaves intricate stories in a way that involves viewers (and audiences) as everyone is invested in solving the murder.
Screenwriter Mark Chappell said, "What is so great about this type of mystery story is that you feel you know this world without having seen it all.  You can rely on an audience coming to the table with the knowledge to properly enjoy a murder mystery".
"It's a pretty zany plot with some poignant moments," said Rockwell. And that statement encapsulates the feeling of the movie. "It's a satirical and farcical look at the murder mystery genre. I hope audiences will love the play on the theatre world, that's what Britain is known for," stated co-star Ruth Wilson.
See How They Run is now available on demand. It's a retro story about a retro story and a mystery within a mystery. And Ronan said, "The film is a celebration of London, too, and how rich a city it is and has always been, and how there's so much grit but also grand beauty."
About the Author
Francine Brokaw has been covering all aspects of the entertainment industry for over 25 years. She also writes about products and travel. She has been published in national and international newspapers and magazines as well as Internet websites. She has written her own book, Beyond the Red Carpet The World of Entertainment Journalists, is the entertainment correspondent for Good Day Orange County, and has her own TV show, Beyond the Red Carpet, on Village Television in Orange County. She is a longstanding member of the Television Critics Association and is accredited by the MPAA. Follow her on Twitter.