'Seduced by Mrs. Robinson: How "The Graduate" Became the Touchstone of a Generation' - Book Review
Category:
Books and Music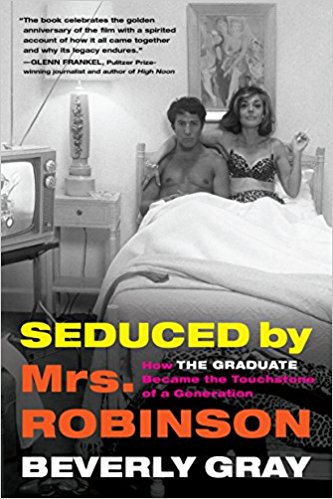 Author Beverly Gray provides an extensive look at a film that changed many careers and indeed Hollywood itself. The Graduate was a popular book by Charles Webb. It was first published in 1963 but took several more years until it became a feature film. "Seduced by Mrs. Robinson" looks at the preparation to turn the book into a movie, the casting, the making of the film, and the aftermath on this 50th anniversary of the movie's release.
The film introduced movie audiences to Broadway actor Dustin Hoffman. It is difficult to imagine anyone else in the role of Benjamin Braddock but, as Gray discloses, Robert Redford was anxious to play the male lead. Hoffman wasn't sure he was Benjamin Braddock material, thinking he didn't fit the image. But, as Gray points out, there is no description of Ben's appearance in the book, so readers were free to use their imaginations, and casting Hoffman was a great coup, for him and the film.
As far as the original cougar, Mrs. Robinson, is concerned, there were many actresses who were considered for the part. Can you see Doris Day in that role? Or how about Patricia Neal? We all know that Anne Bancroft got the part and made the sexual dynamo into a character we have come to know and love through the years.
The film went through several script versions before starting production. This was basically a small, art house film that didn't rely on a big studio. And the popularity of the film surprised Hollywood insiders. It was almost shut out of the Oscars, but director Mike Nichols was recognized by the Academy. The film did win several Golden Globes, BAFTAs, and other awards.
The wardrobe for Mrs. Robinson was carefully crafted. Her animal prints and furs convey a true cougar.
With songs by Simon and Garfunkel, a wonderful cast, fun story, and memorable lines, The Graduate quickly implanted itself in pop culture. It is still being recognized in today's culture. In the 2005 film Rumor Has It, the plot revolves around a family that was the basis for the story of The Graduate. And there have been several takeoffs through the years of different scenes, including the one with Mrs. Robinson's stockings.
For anyone who has this film at the top of their "favorites" list, they will definitely enjoy reading all the background in this book.
• Hardcover: 304 pages
• Publisher: Algonquin Books (November 7, 2017)
• Language: English
• ISBN-10: 1616206160
• ISBN-13: 978-1616206161
About the Reviewer
Francine Brokaw writes about products, travel, and entertainment. She has been published in national and international newspapers and magazines as well as Internet websites. She has written her own book, Beyond the Red Carpet The World of Entertainment Journalists, from Sourced Media Books.
Follow her on Twitter