Season Two of Amazon Original Series 'Creative Galaxy' on Prime Video
Category:
Sneak Peeks & Trailers
Season 2 is available September 16, 2016.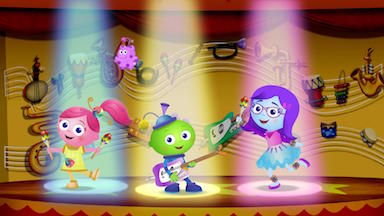 Young viewers will join adorable alien Arty (Meesha Contreras), and his sidekick Epiphany (Kira Gelineau), as they travel around the galaxy to solve problems using various forms of art. Each vibrant and engaging episode highlights a unique creative medium – painting, music, sculpting, cooking and more – to showcase how art can be found in all different places and in many forms. The interactive stories and unique live-action craft segments designed to help adult viewers recreate the art projects featured in each episode with their kids, inspire children to "go be amazing!" and become idea makers and creative thinkers.
In Season Two, the galaxy expands as Arty introduces audiences to two exciting new art forms – cooking and singing/dancing – with new planets and celebrity hosts: Cooktopia with Chef Zesty (Donovan Patton) and Grooveopolis with Melody (Lisa Loeb). In addition, the new episodes celebrate key childhood "milestones" such as a parent's birthday and losing a first tooth, bringing even more relatable preschool experiences to families everywhere.