'Sayonara' on Blu-ray from Twilight Time
Category:
Blu-ray's and DVD's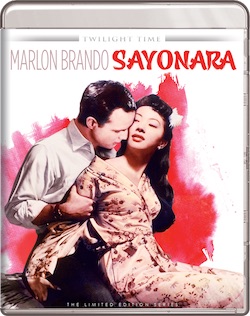 Based on the book by James Michener, Sayonara stars Marlon Brando, Miiko Taka, Red Buttons, James Garner, and Miyoshi Umeki in a dramatic story of life and love in Japan after World War II. The story takes place in 1951, just ten years after Pearl Harbor. Tensions run high but yet the people of Japan are eager to get past the resentment they hold for the "Yanks."
Brando is Air Force Major Gruver, a man from the South who is following in his father's footsteps in the military. Kent Smith is General Webster, who is friends with Gruver's father and quite anxious for Gruver to marry his daughter Eileen (Patricia Owens). He reassigns the ace pilot to Japan from Korea so the couple can spend more time together and hopefully marry.
While in Japan, one of Gruver's men, Joe Kelly (Buttons), marries a Japanese woman (Umeki). The law at the time does not allow American servicemen to bring their Asian wives back to the states. Knowing this, and knowing the prejudice the couple and their children will face, they start their lives as a married couple in Japan. The future will take care of itself.
Gruver is against the union, but eventually comes to realize how much in love the couple is. And to the chagrin of the higher ups, he also falls for a Japanese woman (Taka) and breaks up with the General's daughter.
Garner is Captain Bailey, a man on the side of love and marriage, and the conduit between the lovers to keep everyone content and in good standing. But that proves a challenge when the military comes down harder on mixed-race couples.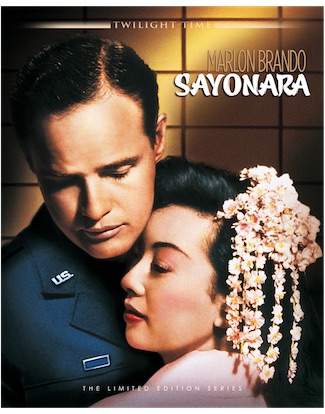 Irving Berlin wrote the title song, and the score is from famed composer Franz Waxman. Joshua Logan directed this epic story of love, compassion, prejudice, and history, and brings the culture of 1950s Japan to the screen.
This film introduced Red Buttons as a mainstream actor to movie audiences. Brando had already made a name for himself with A Streetcar Named Desire, Julius Caesar, On the Waterfront, and Guys and Dolls. Garner went on to star in numerous dramas and comedies in his career. Taka was introduced to audiences in this movie and went on to roles in Shogun and Walk, Don't Run. Umeki played Mei Li in the 1961 musical Flower Drum Song, and in 1969 co-starred in the TV series The Courtship of Eddie's Father.
Personally I would have preferred to see James Garner in the lead role, but who am I to challenge Josh Logan? By the way, Garner won the Golden Globe for this film for "Most Promising Male Newcomer."
Michener penned many classic stories, like "The Bridges at Toko-ri," "Hawaii," "Centennial," and "The Drifters."
This limited edition Blu-ray from Twilight Time includes a booklet about the movie and the story.
Sayonara is long (147 minutes) and filled with emotions. It's not rated but due to the subject matter it is not for young viewers. Pop this disc into your player and settle down for two and a half hours of intense drama with a great cast and wonderful performances. Red Buttons won the Academy Award for "Best Actor in a Supporting Role," Miyoshi Umeki won for "Best Actress in a Supporting Role, " and the film garnered two additional Oscars.
About the Author
Francine Brokaw has been covering all aspects of the entertainment industry for over 20 years. She also writes about products and travel. She has been published in national and international newspapers and magazines as well as Internet websites. She has written her own book, Beyond the Red Carpet The World of Entertainment Journalists, from Sourced Media Books.
Follow her on Twitter