'Savannah Sunrise' on DVD
Category:
Blu-ray's and DVD's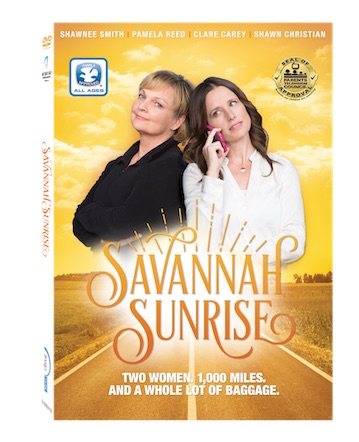 Pamela Reed and Shawnee Smith star as mother-in-law and daughter-in-law in this humorous road trip movie. Savannah Sunrise is a story filled with compassion, frustration, and love.
Joy (Smith) is a type-A personality-working woman. Her phone is practically glued to her ear. She loves her family and her work, but oftentimes the work overtakes her family time. Lorraine (Reed) is her mother-in-law who has been a widow for two years. The family is moving her from her home in Kentucky to a retirement community in Georgia. Due to a glitch in her plane reservations, not to mention in her memory, Lorraine must make the trip in the car with Joy. What starts as a simple drive turns into an epic, and very often hilarious, road trip in which both women grow closer.
With her husband and kids left to pack up Lorraine's house, Joy and her mother-in-law begin their trip to Savannah. Joy intends on conducting business calls and getting work done on the drive, but those plans go out the window within the first few miles of the journey. Lorraine's bladder is always begging for a restroom and Joy discovers she must stop more than she planned. So much for a quick drive.
As they continue the trip that was supposed to be an uneventful journey, one thing after another happens. Joy grows increasingly weary and frustrated with Lorraine. And when Lorraine takes them on an 80-mile side trip to visit her best friend, Joy realizes they must spend the night on the road instead of driving straight through.
With stained clothes and a woman that keeps reminding her that her children will be grown in the blink of an eye, Joy grows more irritated with each passing mile. But there is something nice about having Lorraine in the car with her. Even though her agitation rises, eventually she realizes what a gem her mother-in-law is. And when they find a baby alligator in their car, the two women finally have a memorable, albeit scary, experience over which they bond even more.
The bonus features are a behind-the-scenes look at the story and interviews with the cast. The movie was filmed on location in Georgia. This is a delightful family film.
Savannah Sunrise is available at Walmart. This story of love, compassion, and family is rated TV-G for all audiences.
About the Author
Francine Brokaw has been covering all aspects of the entertainment industry for over 20 years. She also writes about products and travel. She has been published in national and international newspapers and magazines as well as Internet websites. She has written her own book, Beyond the Red Carpet The World of Entertainment Journalists, from Sourced Media Books.
Follow her on Twitter