'Satan Never Sleeps' on Blu-ray
Category:
Blu-ray's and DVD's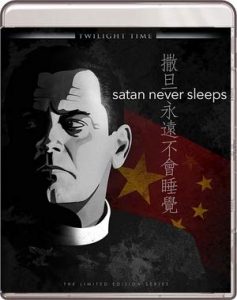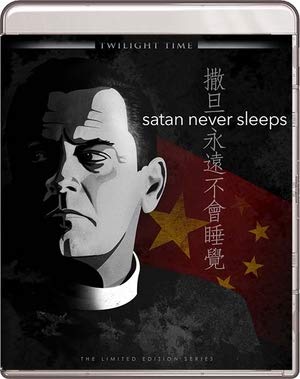 Twilight Time has just released the Blu-ray edition of the 1962 movie Satan Never Sleeps. The movie stars William Holden as a priest caught in the Chinese Communist revolution.
Father O'Banion (Holden) has just arrived at his new post, a mission in China. He is to take over for the aging Father Bovard (Clifton Webb), but due to the revolution, they are both refused clearance to leave. So, the two priests try their best to keep their flock together even when a former Christian, Ho San (Weaver Lee), takes over the communist leadership in the village.
With the backdrop of the communist atrocities, there is another story unfolding. On his way to the mission, O'Banion caught the attention of a young Chinese woman, Siu Lan (France Nuyen), who is in love with him and follows him to the mission. She is unaware that Catholic priests cannot marry. Nevertheless, she is determined to win his affections, to the chagrin of Father Bovard.
The comedy, if there could be any comedy in this violent and horrific story, is the sweetness Siu Lan feels toward her precious priest. He is, in turn, agonizing over the situation. And Bovard has the idea that O'Banion is leading her on and might succumb to her charms, unaware of another situation unfolding. Ho San is intent on getting Siu Lan, with or without her consent, and O'Banion tries to hide her from his evil intentions. The worst happens.
With the two priests caught in the middle of this dramatic unfolding of the communist takeover, they fear all their hard work will be destroyed. And they are nearly correct.
This is a deep, dark, drama with a wonderful cast. Holden is at his best as the younger priest struggling with what life is throwing at them but doing it in a calm manner and relying on God to see them through. He starred in another movie, Love is a Many Splendored Thing, in 1955 that also took place during the communist revolution.
Satan Never Sleeps is from the Pearl S. Buck novel of the same name. If you are in the mood for a deep, dark, drama, this is the film for you. It is not rated however it is definitely for adults only, due to the story and the violence.
About the Author
Francine Brokaw has been covering all aspects of the entertainment industry for over 25 years. She also writes about products and travel. She has been published in national and international newspapers and magazines as well as Internet websites. She has written her own book, Beyond the Red Carpet The World of Entertainment Journalists, from Sourced Media Books, is the entertainment correspondent for Good Day Orange County, and has her own TV show, Beyond the Red Carpet, on Village Television in Orange County.
Follow her on Twitter