Santa's Magic Toy Bag DVD
Category:
Blu-ray's and DVD's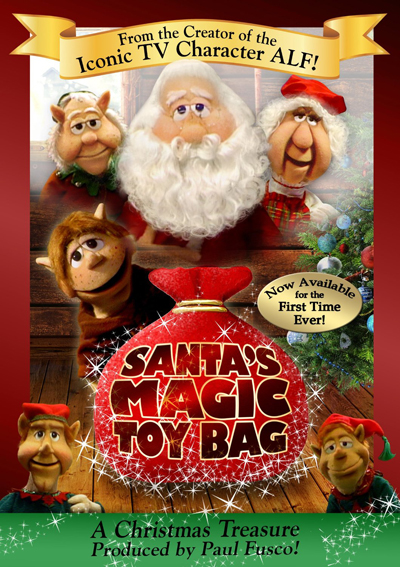 Santa's Magic Toy Bag was produced in 1983 and hasn't been seen on any home video format since it was shown on the Showtime Network. This is a fun little film created by Paul Fusco, the man behind the hit series Alf, which aired from 1986-1990.
This isn't an animated movie. It is comprised of puppets. They sing and share a fun story about a misunderstood apprentice elf. Little Sherman wants to be an official elf, but finds apprenticing is much harder than he ever imagined.
Sherman is a disaster in the making. He makes a mess of everything he tries. Or does he? This little guy – whose best friend is a jack-in-the-box – feels out of place. He says he can't win because he doesn't fit in. Sherman gets transferred from every department he is assigned to – wrapping, making toys, the mailroom, and even the bakery. But Santa knows all Sherman needs is a little time and encouragement.
There are some fun songs in the film, and the message to viewers, via Sherman, is to believe in yourself. Sherman also finally believes in the magic of Christmas.
The DVD contains a sing-along as well as some cute little bloopers. There is also "Sherman's Design Book" which illustrates the interesting and creative toy designs this little guy imagines. Sherman has a way of combining two things into one. He makes an elephantone (combination elephant and telephone), an electric kite (kite with electric fan), and more.
The movie is short – 30 minutes – but it is fun and filled with heart.
Santa's Magic Toy Bag is not rated however it is appropriate for all ages.
About the Author
Francine Brokaw has been covering all aspects of the entertainment business for 20 years. She also writes about technology and has been a travel writer for the past 12 years. She has been published in national and international newspapers and magazines as well as internet websites. She has written her own book, Beyond the Red Carpet The World of Entertainment Journalists, from Sourced Media Books.
Follow her on Twitter
Like her on Facebook