'Santa Fake' on DVD
Category:
Blu-ray's and DVD's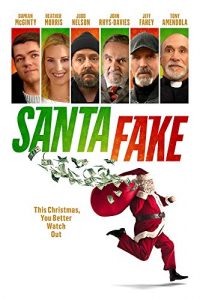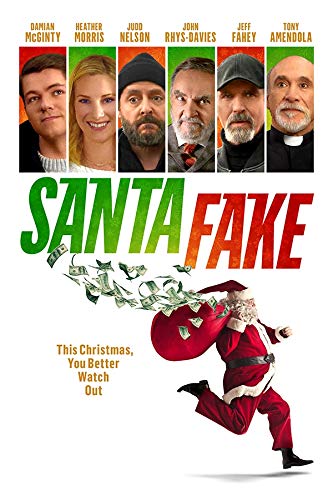 Santa Fake is a new holiday film filled with music, love, and plenty of holiday spirit. It is a sentimental and endearing story for the entire family.
When Pat (Damian McGinty) was born he was placed in an orphanage in his country of Ireland. One of Santa's helpers discovered this little lad he knew what was in his heart so he made sure that Santa knew about Pat and, well, the future would reveal what their plans would be.
Pat left Ireland and came to the United States where he landed a job at an Irish pub. When Joe (John Rhys-Davies),  the owner, asked him to run an errand, Pat knew something was amiss and knew his life was in danger. He took off and landed in Santa Fe, New Mexico where he discovered the suitcase entrusted to him by his conniving former boss was filled with money. This confirmed that his ex-boss was a shady character. But now Pat was in even more danger.
When he was asked to be the Santa at the local mall, Pat realized he could hide in plain sight and the goons sent to Santa Fe by Joe could not find him. It worked out well for everyone. Pat was the most loved Santa in the city. He combined his sweet character with his appealing singing voice and ended up charming the entire town. But the goons were hot on his trail.
Without any spoil alerts, let's just say that everything ends up fine and Pat's good nature made him beloved by not only the folks in Santa Fe, but also by Santa himself.
This is a cute film and one that will be enjoyed by all ages. And don't underestimate Damian's voice. His singing is more than enough to make this a memorable holiday film. He previously appeared in Glee and Celtic Thunder: Christmas.
Judd Nelson, Heather Morris, Jeff Fahey and Tony Amendola co-star in this movie. Santa Fake is not rated however it is suitable for everyone.
About the Author
Francine Brokaw has been covering all aspects of the entertainment industry for over 25 years. She also writes about products and travel. She has been published in national and international newspapers and magazines as well as Internet websites. She has written her own book, Beyond the Red Carpet The World of Entertainment Journalists, from Sourced Media Books, is the entertainment correspondent for Good Day Orange County, and has her own TV show, Beyond the Red Carpet, on Village Television in Orange County. Follow her on Twitter.