Sam Elliott and Debra Winger Talk 'The Ranch'
Category:
Television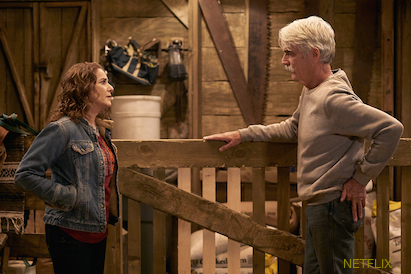 Veteran actors Sam Elliott and Debra Winger co-star in the Netflix family sitcom The Ranch. Elliott is no stranger to playing a rough cowboy. As a matter of fact, that is how he is basically typecast, although he does take alternate characters from time to time, like in the recent film Grandma.
"Good fortune came my way again," Elliott told the media. "It was an incredible year last year, and really began the year before with Justified. And I got an opportunity, after 47 years, all of a sudden I'm doing things that I've never done before."
He explained, "The thought that all of a sudden I'm doing a four camera show and working with people that have proven themselves in this genre for so many years is a pretty astounding thing for me personally."
Elliott continued, "I just think life is funny, you know. I mean, not that it's ha ha funny, but it's often funny, and I think that comes out of perspective. So, I'm always kind of looking for the – maybe as you say, I'm not sure about searching it, but … it's a real joy to go to work and make people laugh, I must say. And this is the first time I've really had an opportunity to do that. I mean, I find that a real gift." With his tough demeanor as a weathered rancher who barely cracks a grin, the character of Beau Bennett is tailor made for this tall, lanky actor with the bushy mustache and deep gritty voice.
"The thing that most attracted me to this show was the people that I was going to have the opportunity to work with and, as I've said before, a new world, this four camera format, and working for Netflix, quite frankly."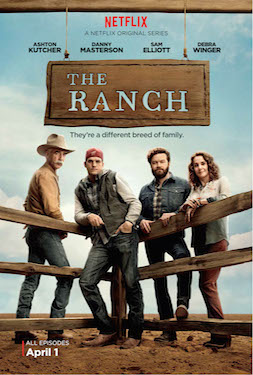 Winger agreed. "It was never about schedule," she said about taking on projects. "My life is not about schedules. Raising my kids was somewhat important, but it's always about the people I'm working with, … So it was the happy accident."
The actress admitted, "The first 10 episodes were like school, you know. I was taking notes. They were laughing at me. I was writing down all of these terms. It was like they were speaking a foreign language." But when viewers watch the show, they will not notice how out-of-her element she felt.
"But, also, it's been incredible because you can learn something at my age," Winger confessed. "It's fun to learn something new. And I really have no point of reference on it except, when the live audience comes in, I get that and I get it from doing theater. … I really love how collaborative these guys are during the week. You are really a part of it. We are really all involved."
The 10-episode first season of The Ranch is available on Netflix. While it is a show about a family, it is not recommended for youngsters. The Ranch includes sex, nudity, profanity, alcohol, drugs, smoking, and some intense scenes.
About the Author
Francine Brokaw has been covering all aspects of the entertainment industry for 20 years. She also writes about products and travel. She has been published in national and international newspapers and magazines as well as Internet websites. She has written her own book, Beyond the Red Carpet The World of Entertainment Journalists, from Sourced Media Books.
Follow her on Twitter