'Saddle Up' CD+DVD Giveaway
Category:
Giveaways

Saddle Up melds "musical styles ranging from cowboy folk to Mexicali folk to bluegrass" (No Depression) with stories inspired by exploration through five national parks and camping along the Continental Divide. The melodic tunes cover tales of western wildlife, Navajo stories, Southwest-style Spanglish, the issue of guns in western lore, friendship, and more.
To accompany the album, The Okee Dokee Brothers' journey along the Continental Divide was filmed and compiled for a "Saddle Up" DVD documentary featuring educational material, music videos and a hint of tomfoolery.
Tracklist:
1. Saddle Up 2:15
2. Don't Fence Me In 2:30
3. Cow Cow Yippee 2:26
4. The Great Divide 2:47
5. Jackalope (with Jim Campilongo) 2:59
6. One Horsepower 2:46
7. The Legend of Tall Talkin' Sam (with Rosie Newton) 3:08
8. Hard Road to Travel 1:29
9. Shootin' Star (with Cindy Cashdollar) 3:10
10. Sister Moon and Brother Sun (with The Benally Family) 3:58
11. Good Old Times 3:19
12. Lead a Horse to Water (with John Sebastian) 1:21
13. Somos Amigos (con Carlos Medina) 2:44
14. The Grass Is Always Greener 3:05
15. Last Lullaby 3:33
We have some sets to giveaway.
To be eligible to win a copy of Saddle Up, email us at [email protected] with "Saddle Up Giveaway" in the title. Please supply your name, address, phone number and email address (so we can let you know if you are a winner).
The deadline for this giveaway is June 1, 2016.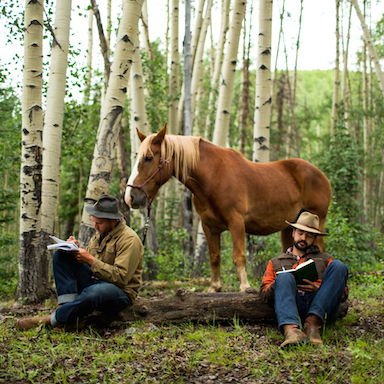 Chances are, these dudes will be moseying right on into your town:
Sun., May 15 / Baum Walker Hall at Walton Arts Center / Fayetteville, AR

Thurs., May 19 / WYO Theater at UNPLUG Fest / Sheridan, WY

Sat., May 21 / Fitzgerald Theater 'Saddle Up' Album Release Concert / St. Paul, MN

Sat., June 4 / Barnes and Noble In-Store / New York, NY

Wed., June 15 / McCallum Theatre / Palm Desert, CA

Thurs, June 16 / Heart and Soul Concert at Denver University / Denver, CO

Sat., June 18 / Barnes and Noble In-Store / Washington D.C.

Sat., June 18 / SiriusXM Campfire Sing Out / Washington D.C.

Sun., June 19 / AMP by Strathmore / North Bethesda, MD

Sat., July 2 / Prairie Woods Environmental Learning Center / Spicer, MN

Sat., July 2 / Minnesota Zoo Overnight Camp Out / Apple Valley, MN

Fri., July 8-Sun., July 10 / Winnipeg Folk Fest / Winnipeg, MB

Sat., July 16 / RiverSong Music Fest / Hutchinson, MN

Sun., July 17 / Hennepin Church / Minneapolis, MN

Fri. and Sat., July 22-23 – Storybook Land – Aberdeen, SD

Sat. and Sun. Aug. 6 – 7 / Big Top Chautauqua / Bayfield, WI (opening for The Nitty Gritty Dirt Band)

Fri., Aug. 4 – Meeker County Fair – Litchfield, MN

Sat., Aug. 13 / Richland Library / Columbia, SC

Sat., Aug. 20 / Georgetown Church of Christ / Georgetown, TX
The full-length "Saddle Up" movie will stream on Netflix starting in June. More information is at their website.