'S.O.B.' on Blu-ray
Category:
Blu-ray's and DVD's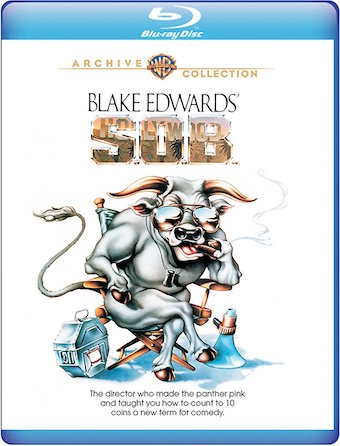 In 1981 Blake Edwards wrote and directed S.O.B., a whacky farce about Hollywood. The cast is phenomenal, featuring Julie Andrews (Edwards' real-life wife), William Holden, Larry Hagman, Richard Mulligan, Robert Preston, Craig Stevens, Loretta Swit, Robert Vaughn, Stuart Margolin, Robert Loggia, and Marisa Berenson, among a long list of others.
The story is about a movie producer, Felix Farmer (Mulligan), who has never had a bad film – until now. His latest wholesome family-friendly film with his wife Sally (Andrews) is a major flop. Sally moves out with their children, Felix tries – several times – to commit suicide, and the people at the studio are in a state of confusion, not knowing what to do with the film. They decide to recut it, but then Felix has an inspiring idea to reshoot it and turn it into a big-time porno film. He gains control of the film and sinks all his money into it knowing deep down, it will be a hit. After all, the morality of the time was in the gutter, so why not show it on screen?
S.O.B. is standard operating bullsh** in Hollywood. This film is a farce about the narcissism, extremes in the world of entertainment. The film is stupid and off color. Robert Preston is the saving grace. Incidentally, he co-starred with Andrews the following year, 1982, in the smash hit Victor/Victoria. Preston can never give a bad performance. He is endearing and memorable.
S.O.B. was nominated for some awards at the time, however it isn't a go-to movie if you're interested in a real comedy. Victor/Victoria is a much better film.
S.O.B. has its loyal fans, however. It's filled with great talent with a few memorable characters. This is the one film in which Andrews appeared topless.
S.O.B. is not on my personal list of good movies, however, as stated earlier, it has a following. It's one of those movies you either love or hate. This Blu-ray release is part of the Warner Archive Collection and can be ordered from their website.
About the Author
Francine Brokaw has been covering all aspects of the entertainment industry for over 20 years. She also writes about products and travel. She has been published in national and international newspapers and magazines as well as Internet websites. She has written her own book, Beyond the Red Carpet The World of Entertainment Journalists, from Sourced Media Books.
Follow her on Twitter