Russell Madness is Fun for Kids
Category:
Blu-ray's and DVD's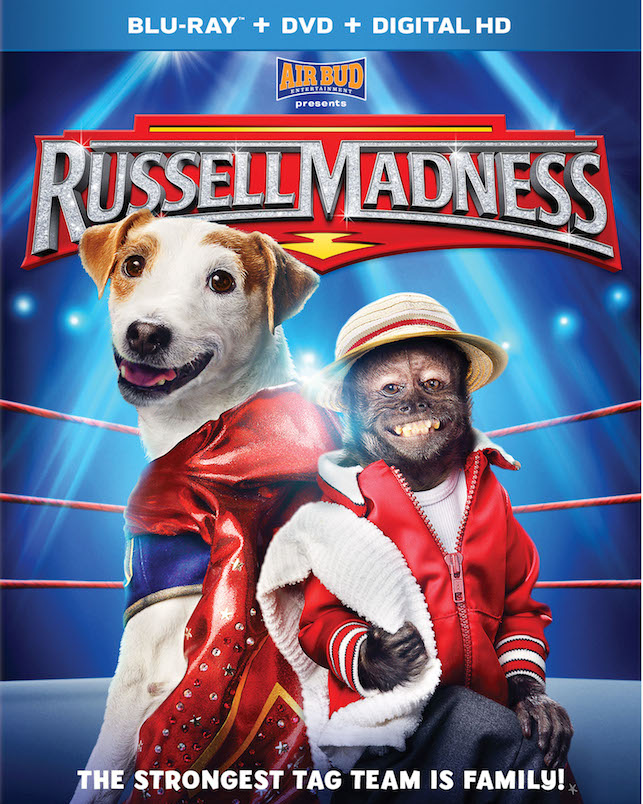 What do you get when you mix an adorable Jack Russell Terrier with a fun-loving monkey? Russell Madness. This is a cute movie for kids. After all, who doesn't love a good dog/monkey team?
From director/producer/writer Robert Vince who brought us the popular Air Bud and Air Buddies film franchises, Russell Madness employs the same technology with "talking" animals. Yep, as in the Buddies films, these animals move their mouths and speak…English.
The story begins with Russell, a sweet little puppy who has a nervous condition. Whenever anyone thinks about adopting him from the pet store, he pees all over them. So when all of his siblings have found homes, Russell is left alone and destined for the pound. All this little guy wants is a family.
After some antics, the Ferraro family, who has moved from San Diego to Portland where they have inherited a "vintage" wrestling arena, discovers Russell. And they have inherited one other thing. Hunk, a Capuchin monkey, comes along with the building.
To sum up the story, Russell becomes a champion wrestler, even though he's a dog, with Hunk is his trainer. This team manages to revive the old wrestling arena and bring fame back to the Ferraro family, while at the same time giving Russell a family to love and who loves him. Of course, there are some whacky scenes in the arena, with Russell bouncing off the ropes, and let's not forget the evil promoter who doesn't have anyone's – or any pup's – best interest in mind except his own wallet.
The tagline for the film is "The strongest tag team is family." That's what this show is about. Family. Russell and Hunk and all the Ferraros become one loving family who put family above everything, even profit.
Hunk is played, and quite brilliantly, by Crystal the Monkey who has warmed the hearts of viewers in her various roles – Dexter in Night at the Museum, Dr. Rizzo in her TV series Animal Practice, and in the movies We Bought a Zoo and The Hangover, as well as plenty others. I've had the pleasure of meeting this sweet little monkey and can say with all honesty, she's loveable.
Sean Giambrone who plays Adam Goldberg in the TV series The Goldbergs voices Russell. Will Sasso provides the voice of Hunk.
Russell Madness is a show about family, love, and caring. It's filled with plenty of whacky wrestling moments from not only little Russell, but also wrestler/actor John Hennigan who faces Russell in the arena as the champion "The Hammer." But how can this little terrier take on the champ? With plenty of spunk, courage, and a great monkey trainer, of course.
Russell Madness is rated PG for some rude humor and sports action. Its appeal will mostly be for ages 5-12. It's available on a Blu-Ray + DVD + Digital HD combo pack.
About the Author
Francine Brokaw has been covering all aspects of the entertainment business for 20 years. She also writes about technology and has been a travel writer for the past 12 years. She has been published in national and international newspapers and magazines as well as internet websites. She has written her own book, Beyond the Red Carpet The World of Entertainment Journalists, from Sourced Media Books.
Follow her on Twitter
Like her on Facebook