'Royal Wives at War' on PBS
Category:
Television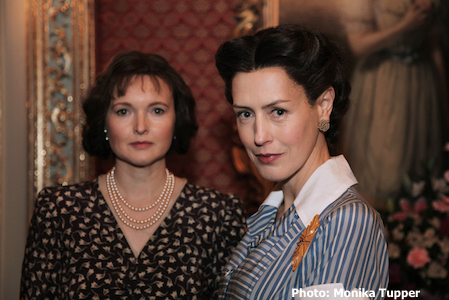 Gina McKee and Emma Davies star as Wallis Simpson and Elizabeth (the Queen Mother) in this telling tale about the two royal wives who played an important part in British History. Royal Wives at War is a combination of videos, dramatization, and a discussion with three royal biographers (Anne Sebba, Lady Colin Campbell and Andrew Morton).
We have all heard the story of King Edward VIII (David) abdicating the throne for "the woman I love," and his younger brother King George VI ascending to the throne, but the relationship between their wives is what comes into play in this interesting and educational film. These women were strong and their husbands were basically weak. In 1967 they saw each other for the first time since the 1936 abdication.
As the story plays out, viewers see the make-up of the two women and their men. Wallis was an outspoken American divorcee who was still married when she was with David. When they met he was already having an affair with another American. He loved American women. He is described as a "perennial Peter Pan." He was loved and adored by everyone, but never had what it took to lead an empire.
Elizabeth, lo and behold, was attracted to David but he never returned the emotion. She was too plump and old fashioned for his taste. This "Playboy Prince of Wales" preferred more modern, slim, and American women. She married his brother and played a more important part in history than she ever dreamed.
Wallis was a thorn in the side of the British Empire. Her relationship with David, once he became King after the death of his father, was a constitutional crisis. Elizabeth was never a fan of this woman. And Wallis and David referred to Elizabeth as "Cookie" because of her girth. The women were cordial to each other until the abdication.
This war between the women played out for the rest of their lives. And when David and Wallis became a little chummy with Hitler, the feelings turned even more tense and reprehensible. At one point the basically exiled couple admitted it would be better for everyone if Britain were bombed. If that isn't enough to turn you against this couple, then what is?
The women were as different as night and day, however Elizabeth knew her duty was to her country and did everything in her power to keep it afloat.
This is an engrossing story of not only the women but also this part of British – and world – history. David didn't have the inner strength to be king and many think it was a blessing that his love for Wallis forced him out. However Elizabeth always blamed her for the premature death of her husband. The stress of leading for someone who was not brought up to be king was quite a load for him to bear.
On December 11, 1936 Edward VIII abdicated. This year marks the 80th anniversary of that crisis in British history. This film gives viewers a deeper understanding of the people that were at the center of the event. It is truly a fascinating story. Royal Wives at War premiers September 18, 2016 on PBS.
About the Author
Francine Brokaw has been covering all aspects of the entertainment industry for 20 years. She also writes about products and travel. She has been published in national and international newspapers and magazines as well as Internet websites. She has written her own book, Beyond the Red Carpet The World of Entertainment Journalists, from Sourced Media Books.
Follow her on Twitter