Rosalind Russell is 'Auntie Mame'
Category:
Blu-ray's and DVD's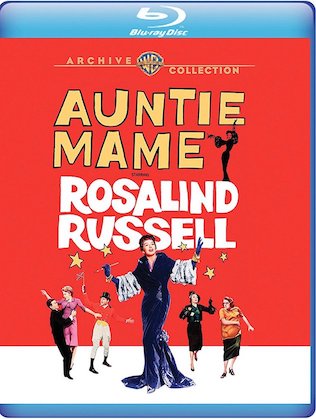 Auntie Mame is a delicious film from 1958 starring Rosalind Russell in the title role. Ms. Russell was nominated for an Academy Award and received the Golden Globe for her performance in this film and the movie garnered other nominations and awards. The movie was based on the novel by the same name by Patrick Dennis. After this film it was later made into a musical with Lucille Ball as Mame Dennis. But it is Russell who embodies the character with every cell in her body.
Mame is a force of nature, to say the least. She is a free- spirit filled with love and a lust for life. When her brother dies, leaving custody of his son Patrick to Mame, she embraces the young lad with all the spirit with which she embraces life. She intends to widen his eyes and have him explore everything life has to offer, however that gets waylaid when the executive of the will, Dwight Babcock (Fred Clark) comes into the picture and insists Patrick be sent away to boarding school where he will be molded into a man of character.
Mame adores Patrick and he feels the same toward her. They are two of a kind, even though Babcock wants to knock that free-spirited sense of adventure out of the young lad.
One of the upper class, Mame is hit hard by the stock market crash and has to find a way of supporting herself and Patrick in the manner in which they are accustomed. When she meets Beauregard Jackson Pickett Burnside (Forrest Tucker), they are instantly attracted to each other and with their marriage Mame's bank account is once again exploding. But things don't go according to plan.
Soon Mame hires Agnes Gooch (Peggy Cass) (Patrick's original nanny) to be her assistant. Mame and her dearest friend Vera Charles (Coral Browne) take on a new project. This time they set their sights on Agnes and send her out into the world to experience life the way they do.
All the characters are enjoyable to watch as the years progress and they each endure life with gusto. Well, except for Babcock who is keen to have the grown-up Patrick (Roger Smith) marry the snooty heiress Gloria Upson (Joanna Barnes), to Mame's dismay and ultimate displeasure. But don't worry. Mam has everything under control – her way. And who can fight a hurricane like Mame Dennis? No one!
This is truly an enchanting story, and Russell deserved the Academy Award, which went to Susan Hayward who also gave a magnificent performance in her film I Want to Live! Russell did win five Golden Globes and was nominated for four Oscars. In 1973 she was awarded the Jean Hersholt Humanitarian Award at the Academy Awards.
Rosalind Russell makes this film. It is a pure delight from beginning to end, and the score makes it a perfect 10. A bonus feature on this new Blu-ray edition is a music track filled with the wonderful score by Bronislau Kaper and the memorable theme song.
Auntie Mame is now available on Blu-ray from Warner Archive Collection. It can purchase at their website or online retailers where DVDs and Blu-rays® are sold.
About the Author
Francine Brokaw has been covering all aspects of the entertainment industry for over 20 years. She also writes about products and travel. She has been published in national and international newspapers and magazines as well as Internet websites. She has written her own book, Beyond the Red Carpet The World of Entertainment Journalists, from Sourced Media Books.
Follow her on Twitter