Ron Howard and Chris Hemsworth talk 'In the Heart of the Sea'
Category:
Movies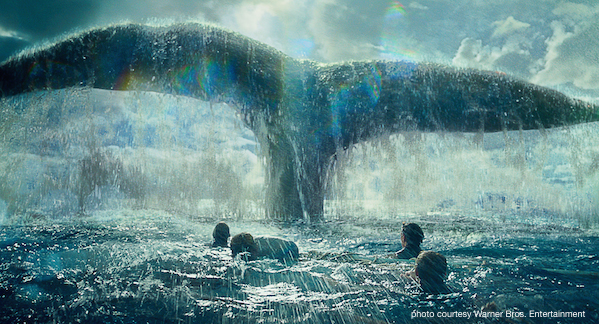 Why would any actor subject himself to a 500 daily calorie quota, a strenuous exercise regiment, mandatory attendance in sailor school, not to discount spending countless hours bobbing in chilling ocean temperatures? In hindsight it seemed like a small sacrifice to pay to be part of Academy Award winning director Ron Howard's newly released In the Heart of the Sea. Most individuals have at least a casual familiarity with author Herman Melville's Moby Dick, but In the Heart of the Sea takes matters a step further, focusing on the real-life maritime disaster that inspired the literary masterpiece.
The incident dates back to 1820 when the New England whaling ship Essex was assaulted by a massive sperm whale seemingly bent on vengeance. The movie is bookended with Melville (Ben Whishaw) interviewing the ship's sole survivor, Thomas Nickerson (Brendan Gleeson), some three decades later. What unfolds in flashbacks is a survivalist story about the 90-day odyssey of the men who escaped the sinking ship only to face starvation, despair, and the questioning of the morality of their livelihood. Was this freak of nature actually a form of divine retribution?
Having previously worked with actor Chris Hemsworth on Rush, Howard was receptive when his leading man first proposed this project. Ironically, it fit into a desire he'd been harboring for more than two decades. "I had long had an interest in doing a movie set in the ocean. Yes, there were sequences in Splash and Cocoon on and under the water. Yet, 25 years ago I was trying to get a movie made about Greenpeace, their ship Rainbow Warrior was confiscated at one point, but I could never get the resources together. Later, I came very close to making Sea Wolf, the Jack London drama set in the ocean," stated the 61-year-old filmmaker, who first made TV audiences' acquaintance as the freckled faced kid Opie on The Andy Griffin Show, and later returned to head Happy Days as Richie Cunningham.
An accomplished scuba diver, Howard freely admits, "I was comfortable enough, but I don't love the ocean. It's not a place I go for recreation, but I also think there's something about the mystery and power of it that has always drawn me to it – the potential drama of it."
Like his onscreen alter ego first officer Owen Chase, Hemsworth assumed a leadership role. As for Howard, he noted that his job varies "from movie to movie and cast to cast." He elaborated, "My job is to channel everyone's efforts to fulfill the possibilities of the story. In doing so, I've learned to identify fairly early what various actors need and it's not always cohesive and consistent, but I try not to put my stamp on the movie. I try to create an environment where the talented people, both in front and behind the camera, can inform it and shape it. So for me it's more like being an editor and chief, given the talents they have to offer."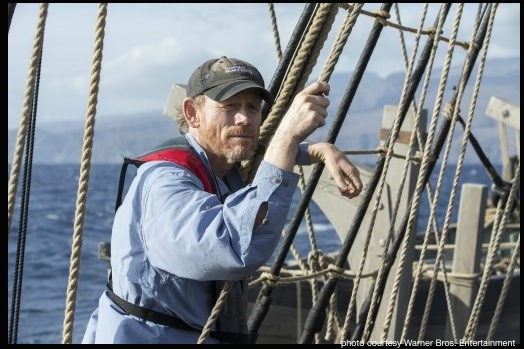 "Authenticity" is a paramount concept, whether its astronaut school in preparation for Apollo 13, training in the gym for Cinderella Man, or in the present case, sailor school. "Part of transporting the audience into the action is getting the details right. Whether people know right from wrong they can kinda sense it." It was this very attention to detail that earned the amiable Howard Academy Awards for 2002's A Beautiful Mind in both the Director and Best Picture categories.
Equally proficient in the television arena, the father of four nailed an Emmy Award in 2004 for Outstanding Comedy Series for Arrested Development.
While moviegoers will be visually captivated by a sea creature that makes "Jaws" look like child's play, scratching beneath the surface In the Heart of the Sea poses some concerns that continue to plague modern man. Howard explained during a series of interviews in Manhattan, "Whaling was an industry and one of the central driving components of the economy and human culture. It was doing a lot of good. Crime rates were going down because the street lights were better in major cities due to the whale oil, yet there was the underlying sense of this brutality. Is this really the right time? And, of course, at that point sensibilities were different.
He continued, "There's an easy contemporary parallel to draw, and I thought, 'Well that was the energy industry then. It was about money, power and everything that goes with it. Low and below, the energy industry today is vital, central and controversial. So what price are we paying for the positives? I thought it gave the movie an added measure of complexity and intelligence."
As for those required physical sacrifices imposed on the cast by the script, Hemsworth laughingly concedes, "When we got down to 500-600 calories a day, it was a pretty ugly experience and lead to some interesting mood swings and erratic patterns of emotions. Many of which my wife can vouch for were negative. What was kinda great was that we were all doing it together so it helped form this great feeling of camaraderie and bond between us."
About the Author
Winnie Bonelli is a former entertainment editor for a daily metropolitan New York City area newspaper. She is passionate about movies and television and loves to take readers behind the scenes.