'Roman Holiday' is a delight
Category:
Blu-ray's and DVD's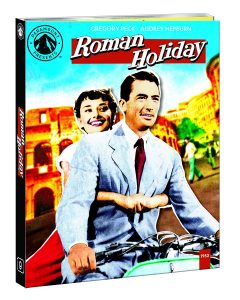 The 1953 film Roman Holiday is a treasure. From the Paramount Presents line of great films, this Blu-ray edition includes the classic film along with several additional features as well as a digital code.
Roman Holiday was one of the very first movies to be filmed entirely on location. Director William Wyler insisted on making the movie in Rome. The film introduced Audrey Hepburn to audiences around the world. Gregory Peck gets top billing, with Eddie Albert co-starring. The city of Rome is the fourth star of the movie.
The story centers around Princess Ann (Hepburn) who is visiting the Eternal City on an official state visit. She is finding her royal duties boring and longs to be just a normal girl in this fascinating city. So one night she sneaks out of the embassy and onto the streets where she is like a fish out of water. But the princess does not mind. She is free and longing for some fun. When reporter Joe Bradley (Peck) finds her resting on a bench, he takes her back to his apartment and realizing who she is, he concocts a plan with his photographer friend Irving (Albert) to befriend Ann and get a wonderful story about a princess in disguise.
This is definitely a charming story. In the end the princess realizes her duty to her family and her country and returns to the embassy where she continues on with her royal life.
In this year when Prince Harry and Meghan have escaped from their royal duties, they might want to take a lesson from Princess Ann. She knows her place in life, and although she had no say in her future, she has a strong sense of duty to her country, unlike Harry and Meghan.
The Blu-ray is filled with wonderful bonus features, including a brand new look at the film with historian Leonard Maltin. Maltin fills viewers in on the making of the film with tidbits about the story, Wyler, and the cast. His insights add to the background for viewers who will be enchanted by the facts and history of the production.
Other bonus features include a documentary about Hepburn's history with Paramount Pictures as well as a biography about her life with those who knew her, including her son. There is another feature about the studio and a feature about Rome, the film's fourth star. Hepburn took home the Oscar for her performance in the film and Dalton Trumbo won the Academy Award for writing (although he was blacklisted). Edith Head garnered the award for costume design however it was Givenchy who was Hepburn's designer.
Roman Holiday is not rated however it is suitable for all ages.
About the Author
Francine Brokaw has been covering all aspects of the entertainment industry for over 25 years. She also writes about products and travel. She has been published in national and international newspapers and magazines as well as Internet websites. She has written her own book, Beyond the Red Carpet The World of Entertainment Journalists, from Sourced Media Books, is the entertainment correspondent for Good Day Orange County, and has her own TV show, Beyond the Red Carpet, on Village Television in Orange County.