'Rogers: The Musical' comes to Disney California Adventure for a limited time
Category:
Activities, Performances, & Events
Category:
Travel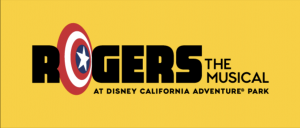 This summer (2023) guests to Disney California Adventure at the Disneyland Resort can enjoy the new live-action show Rogers: The Musical. Through August 31 the Hyperion Theater will be the location where this musical Broadway-style  is performed. 
This is the story of Steve Rogers, aka Captain America. Super hero fans will finally get treated to a musical play about heroism, self-discovery, and a little romance as the story plays out on the stage complete with musical numbers and fun choreography.
It's an upbeat show with peppy songs. The story introduces Steve Rogers and show how he became Captain America. It starts at the beginning of World War II and Rogers attempt to join the army. Unfortunately, he is too small and has asthma along with other problems. But soon his desire to save his country comes to fruition due to a special life-altering device. As he travels through time, he ends up in today's world filled with plenty of woe. It's here he meets up with the rest of the Avengers and they become a crime-fighting group ready to jump into action at the slightest sign of trouble.
The Hyperion is a comfortable theater and quite frankly there are no really bad seats for viewing this show. It also provides a cool respite from the heat of the sun. 
For guests who are not into superheroes, don't worry. This story will fill you in on the background of the Avengers. While many of us (yes, I said "us") might prefer watching Disney Princess shows, this is still a fun show and the quality of the actors/singers is up there with the best of them. As mentioned earlier, this is a Broadway-quality show, and to think guests can experience it in a theme park. Wow.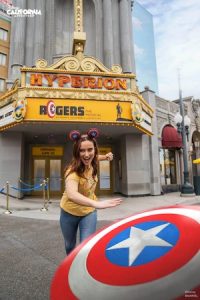 Each day guests can sign in for the complimentary virtual queue, which begins at 10:30 a.m. PT for the first two show times of the day and 2 p.m. PT for the remaining show times of the day. Check with disneyland.com for details.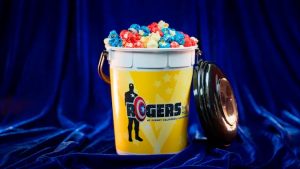 Besides the fun musical play, there are plenty of limited patriotic and hero-themed food and beverage items. To get the full line-up of the limited treats, check out @DisneyEats where you can find out the locations where the items are sold. The limited popcorn bucket features the logo from the musical and is filled with red, white, and blue popcorn.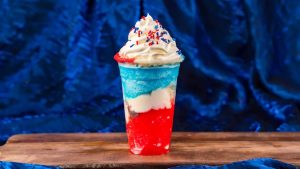 For those with a sweet tooth (and you know who you are) there is a cherry, vanilla, and blue raspberry shake. Patriotic and delicious. For savory meals try the sausage and pepperoni wrap or the pastrami pretzel dog.  And if you are just thirsty, try the Patriotic Punch, a non-alcoholic concoction of sprite with white cranberry juice, blue raspberry and cherry syrup, topped with whipped cream.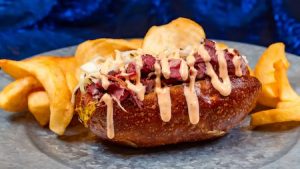 This is Disney, so you know what is coming next. Yep, merchandise. There are some hero-themed items to coincide with this play. Collectible merch includes T-shirts, ornaments, and magnets. 
About the Author
Francine Brokaw has been covering all aspects of the entertainment industry for over 30 years. She also writes about products and travel. She has been published in national and international newspapers and magazines as well as Internet websites. She has written her own book, Beyond the Red Carpet The World of Entertainment Journalists, is the entertainment correspondent for Good Day Orange County, and has her own TV show, Beyond the Red Carpet, on Village Television in Orange County. She is a longstanding member of the Television Critics Association and is accredited by the MPAA. Follow her on Twitter.