Rogers & Hammerstein's Cinderella – 50th Anniversary Edition
Category:
Blu-ray's and DVD's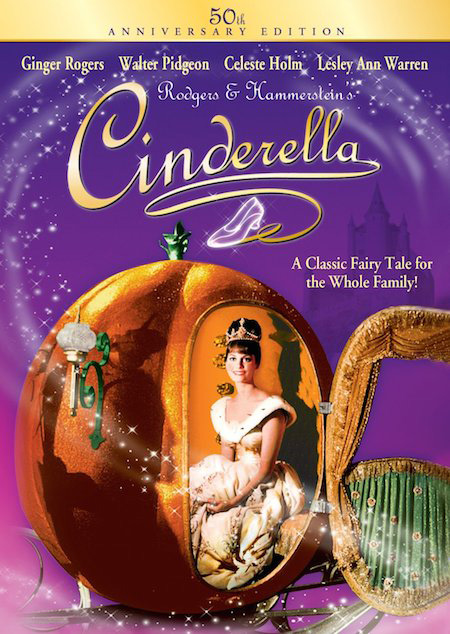 Cinderella comes to life in this 1965 made-for-TV movie, with songs, dances, and the romance that makes this the beloved fairy tale that it is. With music by Rogers and Hammerstein, an all-star cast, the heartwarming story, and the fun of live performances versus animation, this is a DVD that will be cherished for generations. It has been in my family. And now, on the 50th Anniversary Edition DVD, there is even more to enjoy.
Lesley Ann Warren's first starring role, basically her first role ever, plays the enchanted Cinderella, who goes from the sooty-faced house worker to the belle of the ball, with the help of her Fairy Godmother, played by Celeste Holm.
Playing her evil stepmother and dastardly stepsisters are Jo Van Fleet and Pat Carroll and Barbara Ruick. With those as the evils, you know the royals are going to be Hollywood royalty. Ginger Rogers is the queen and Walter Pidgeon is the King. What a great royal couple they make.
So, who is the knight in shining armor? Or I should say the prince that steals Cinderella's heart? That role is charmingly played by Stuart Damon. Daytime viewers know him from General Hospital, but he happens to make a very delightful prince charming.
Songs from this entertaining show include "In My Own Little Corner," "The Prince is Giving a Ball," "Impossible; It's Possible!," "Ten Minutes Ago," "Do I Love You Because You're Beautiful," and others. Honestly, these songs last in your mind longer than the film. They were wonderfully crafted by Richard Rogers and Oscar Hammerstein and just hearing the titles makes me start humming them.
Nothing is more romantic than the songs Cinderella and the Prince sing together. Their chemistry will charm viewers as the love between them is ignited.
We all know the story, and this version follows it with the glass slipper and the hunt for the beautiful maiden.
This version is a remake of the 1957 TV movie, which starred Julie Andrews as Cinderella. Of course it's dated with the sets, but still very much enjoyable and suitable for the entire family. This is definitely a keeper.
A bonus on this 50th Anniversary Edition is a retrospective featurette. Lesley Ann Warren was 18 years old when she made this movie. She remembers how the ball gown was so heavy that after several hours she would get injections in her shoulders because her muscles were so tight from the weight of the gown and she couldn't lift her arms. Stuart Damon was brought in to replace Jack Jones and he was shocked at the thought of playing the prince. Damon admits "Ten Minutes Ago" was his favorite song in the film, and Richard Rogers "expected perfection" in every note. There are more interesting tidbits in this wonderful featurette that will delight all fans of the film.
Rogers and Hammerstein's Cinderella is a classic and this DVD will be cherished and enjoyed for years. Quite honestly, I cannot stop singing the songs. Enjoy this 83-minute movie over and over again.
About the Author
Francine Brokaw has been covering all aspects of the entertainment business for 20 years. She also writes about technology and has been a travel writer for the past 12 years. She has been published in national and international newspapers and magazines as well as internet websites. She has written her own book, Beyond the Red Carpet The World of Entertainment Journalists, from Sourced Media Books.
Follow her on Twitter
Like her on Facebook