'Robo-Dog' on DVD
Category:
Blu-ray's and DVD's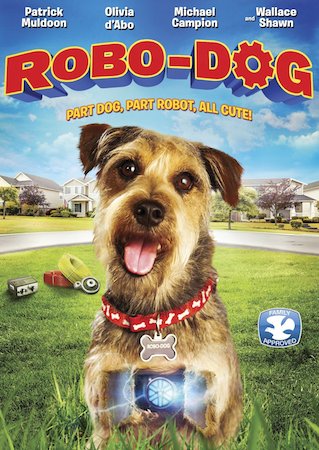 Young Tyler (Michael Campion) is devoted to his dog Dog. Yep, that's the name he gave his dog. Dog and Tyler have been together for as long as the little guy remembers. Dog is a part of a loving family. But when the beloved pet dies (yes, he does die), Tyler says he doesn't want another dog. He just wants Dog back. So what does his father, an inventor, do? He builds a robot dog that looks exactly like Dog. Robo-Dog is a story of love and friendship.
Tyler's dad Tom (Patrick Muldoon) is very inventive. His invention takes everyone by surprise, and Tyler is hesitant to give Robo-Dog the love that he gave to Dog. Robo-Dog is not like his old friend. This robotic version can do more, including talk. And he is fast and strong. The one thing he doesn't know is how to behave like a real dog. That is something Tyler is tasked to do. He is supposed to teach Robo-Dog how to be more like a real dog.
Teaching a mechanical dog to be like a real dog has its ups and downs, literally.
When Tom's former boss (Wallace Shawn) hears that Tom used his super battery to build the dog, he wants it back, even if he has to take the entire dog. Well, things happen along the way but the greedy man eventually gets his battery, however he has no idea how to use it. With the town in danger, it's Robo-Dog to the rescue.
Along the way Tyler learns to love this new little pup. He thought he would never feel this way about another dog. After all, he and Dog were best friends. This story shows that time – and love from another pet – heals the wounds.
Olivia d'Abo stars as Tyler's mother. This family is not your average family. They are simple and over-polite. And they are truly devoted to each other.
This is a movie for youngsters, as adults won't find it as entertaining as kids will. It is cute to see this little dog talk and learn how to be more like a real dog.
Robo-Dog is not rated. Parents need to consider whether the death of Dog will be traumatic for their children. Otherwise, it is a cute little story of love and friendship.
About the Author
Francine Brokaw has been covering all aspects of the entertainment industry for 20 years. She also writes about products and travel. She has been published in national and international newspapers and magazines as well as Internet websites. She has written her own book, Beyond the Red Carpet The World of Entertainment Journalists, from Sourced Media Books.
Follow her on Twitter