'Robo-Dog: Airborne' on DVD
Category:
Blu-ray's and DVD's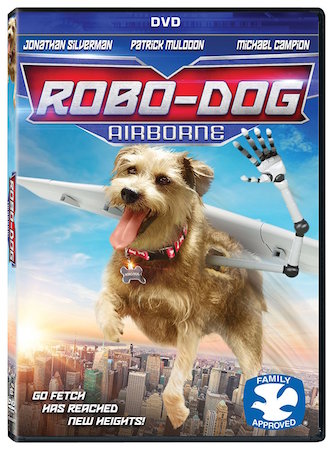 In 2015 Robo-Dog was invented and the idea that a furry, loveable dog that could talk, understand, and have other great powers and would never die intrigued young viewers. Inventor Tom Austin (Patrick Muldoon) created Robo-Dog for his son Tyler (Michael Campion) and the two were inseparable. Now it's time for an upgrade. Robo-Dog: Airborne is the sequel. This time Tom has added wings so the pup is able to fly. Unfortunately, there is a minor gyro problem so his landings aren't so good.
Tyler is just as brilliant as his father and he wins his local science fair with his newest invention, a voice locator. With the next science fair coinciding with his father's science conference, their friend Barry (Kenny Beaumont) volunteers accompany Tyler and Robo-Dog to the science fair then they will all meet up with Tom in the big apple where Robo-Dog is to be the star attraction. The problem is, Robo-Dog goes missing and Tyler and Barry set out to find the beloved "pet."
Carson Perry (Jonathan Silverman), another great technology wiz, finds Robo-Dog in the street. He takes him home and his daughter Mira (Brooklynn Prince) thinks the dog is for her and Carson doesn't have the heart to tell her otherwise. Carson removes Robo-Dog's memory chip and reboots him. Now Robo-Dog thinks he belongs to Mira. She names him Mr. Sparky and he makes her happier than she has been in a long time. Carson doesn't want to break her heart. Looking at how happy his young daughter is and seeing her smile and laugh is worth the deceit – at least for a while.
Meanwhile, Tyler is searching for Robo-Dog and Carson knows it is just a matter of time before he must face the music and disclose the truth to Mira. He knows he did a bad thing, but he did it for a good reason.
The bottom line is this film is only for kids. If they liked the original movie they will enjoy this one.
The bonus feature looks at the making of the film with the actors discussing their characters and storylines. Silverman is the anchor to this film, along with Robo-Dog, aka Mr. Sparky.
Robo-Dog: Airborne is rated G.
About the Author
Francine Brokaw has been covering all aspects of the entertainment industry for over 20 years. She also writes about products and travel. She has been published in national and international newspapers and magazines as well as Internet websites. She has written her own book, Beyond the Red Carpet The World of Entertainment Journalists, from Sourced Media Books.
Follow her on Twitter