'Ring of Bright Water' on Blu-ray
Category:
Blu-ray's and DVD's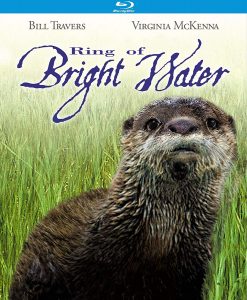 Ring of Bright Water is a heartwarming – and a heartbreaking – story of a fun-loving but a little mischievous otter. It stars Bill Travers and Virginia McKenna, the husband and wife team that also brought us Born Free and several other animal conservation films. This 1969 film is now available on Blu-ray for a new generation of viewers.
In London, Graham (Travers) is confused whenever he walks by a pet store. There is an otter that takes a liking to him and always knows when he is there. So, one day, to keep the little fellow from being sold to a circus, Graham buys the otter and names him Mij. But there is a problem. Mij is not welcome in his apartment building.
So Graham and Mij move to the Scottish countryside. There they meet Mary (McKenna) and her dog Johnny. Mij frolics in the little marshy pond and the two thrive in this relaxed atmosphere. Mij is adorable and well behaved – for the most part. Soon the four – Graham, Mij, Mary, and Johnny – are almost inseparable. They are really fun to watch and viewers will undoubtedly see how happy they all are together. Mij has a playmate with Johnny.
One day Mij chews his way out of the house and wanders off. He discovers another otter and this female is beguiling to him. But eventually Mij returns home and everything is back to normal. The bond between Graham and Mij is heartwarming.
This movie has an almost cult-like following. It is a beautiful story filled with fun, love, caring, and that adorable little otter Mij. The National Board of Review named it one of the top ten films of the year.
Spoiler alert for sensitive viewers: there is an animal death in this film, however it is rated G.
Ring of Bright Water is now available on Blu-ray. Everyone will fall in love with little Mij. It is inevitable!
About the Author
Francine Brokaw has been covering all aspects of the entertainment industry for over 25 years. She also writes about products and travel. She has been published in national and international newspapers and magazines as well as Internet websites. She has written her own book, Beyond the Red Carpet The World of Entertainment Journalists, from Sourced Media Books, is the entertainment correspondent for Good Day Orange County, and has her own TV show, Beyond the Red Carpet, on Village Television in Orange County.
Follow her on Twitter