Richard Burton stars in 'Raid on Rommel'
Category:
Blu-ray's and DVD's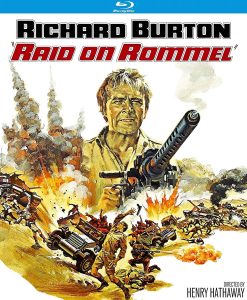 The 1971 film Raid on Rommel stars Richard Burton as a British Intelligence officer sent to destroy a German fuel site in Northern Africa held by Rommel. While the film is not one of the best World War II movies, Burton is the salvation for this intense and action-packed story. With Tobruk, Libya in German hands, the plan could be a suicide mission however Foster (Burton) does not see it that way.
The well-laid plan is riddled with problems from the start. The men Foster had planned on joining leads to a mix-up. Foster finds himself in the middle of a medical unit with some unusual men completely opposite of the commandos he had been tasked commanding. For one, there is a conscientious objector who is a Quaker and will not kill anyone due to his convictions. And along with the medical unit, Foster has picked up an Italian woman, who is the mistress of a high-ranking Italian general. Will this group be able to make it through occupied territory and complete the mission to take out the German fuel supply? If not, the Allies will be in trouble, but if they are successful in Tobruk, they could change the outcome of the war in Northern Africa.
There are some lighthearted aspects of this intense story. One of the men has a conversation with Rommel himself about their mutual interest in stamp collecting. While these philatelic enthusiasts swap stories, The Desert Fox has no idea he is about to be confronted by the enemy.
This film is fictional however the background is real. Tobruk was an essential port in Northern Africa. Its location provided the perfect elements for both Allies and Axis ships with its deep water and strategic setting. Controlling the port was imperative.
Raid on Rommel is available on Blu-ray from Kino Lorber Classics. It is rated PG  with adult content and is too  intense for very young viewers.
About the Author
Francine Brokaw has been covering all aspects of the entertainment industry for over 25 years. She also writes about products and travel. She has been published in national and international newspapers and magazines as well as Internet websites. She has written her own book, Beyond the Red Carpet The World of Entertainment Journalists, from Sourced Media Books, is the entertainment correspondent for Good Day Orange County, and has her own TV show, Beyond the Red Carpet, on Village Television in Orange County.