'Recovery Road' on Freeform (formerly ABC Family)
Category:
Television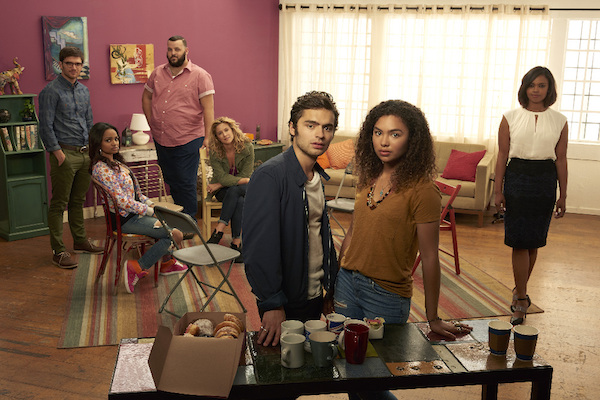 Recovery Road is a new series based on the young adult novel by Blake Nelson. This is an important story for teens as it focuses on addiction in teens and others. It shows the ups and downs of recovery and doesn't sugar coat anything. The series does this with a cast of interesting characters that are forced to live together in an outpatient treatment house.
Maddie is a popular high school student. She gets good grades and has a group of close friends. What she also has is a drinking and drug problem. Maddie doesn't accept the fact that she is an addict. When her secret is discovered, she is given the chance to detox and then live in a treatment house while attending school in the day. It's either that or expulsion from her private school. Her mother insists she take the offer, with the help of the school's guidance counselor.
It takes some time for Maddie to accept the fact that she is an addict. She goes through all the stages of grief, including denial and bargaining. But as time unfolds, the reality of her situation is clear.
Maddie is confronted by the other residents and therapists in the house who each have their own stories that impact this young girl. While she initially insists she doesn't belong there, slowly she comes to terms with her situation.
Among the others in the house are Maddie's former best friend who was arrested for drug dealing (which she did with Maddie but Maddie never got caught), a young man who has been in treatment several times but this time is dedicated to his recovery, a single mother who wants to get her life together and regain custody of her daughter, a restaurateur who is trying to stay clean and sober, and some others.
The counselor at the house is sympathetic but also knows that tough love is important for the wellbeing of the residents.
Jessica Sula stars as Maddie, the party girl who finds her life takes a major change. Residents in the house include Emma Fassler as Laurel, Kayla Pratt as Trish, Lindsay Pearce as Rebecca, Paula Jai Parker as Margarita, Sebastian de Souza as Wes. Akexis Carra plays the school counselor with her own past who wants to help Maddie succeed. Daniel Franzese is the assistant in the house with a heart of gold, and David Witts is the therapist running the house.
This is such an important series the first three episodes will be available on digital and on demand through the January 25, 2016 televised premier on Freeform (formally ABC Family).
While the aspects of addiction and recovery are brought to viewers' attention in a very dramatic way, the characters are interesting and diverse enough to add the element of realism and many viewers might see themselves in a character or two. This is an important series for both teens and parents to watch. Recovery Road emphasizes the pressures on people who are dealing with addiction and recovery.
About the Author
Francine Brokaw has been covering all aspects of the entertainment industry for 20 years. She also writes about products and travel. She has been published in national and international newspapers and magazines as well as Internet websites. She has written her own book, Beyond the Red Carpet The World of Entertainment Journalists, from Sourced Media Books.
Follow her on Twitter