'Ready Jet Go!' Premiers on PBS Kids
Category:
Television

Ready Jet Go! is the newest series for 3-8 year-olds on PBS Kids. This animated show revolves around a group of neighborhood kids who have all kinds of adventures, thanks to the new kid on the block, Jet Propulsion. Jet is an alien from the planet Bortron 7, and he and his parents introduce the earth kids to some out-of-this-world exploits while the local kids teach their new neighbors about life on Earth. The Propulsion's pet is a combination
cat/dog/raccoon/kangaroo/ rabbit named Sunspot who joins in the adventures.
Every episode includes some interesting question about space, like why isn't Pluto still considered a planet? Each episode has two 11-minute animated stories as well as a live-action interstitial that educates viewers about various things like the Space Shuttle. Dr. Amy Mainzer, an astronomer with NASA's Jet Propulsion Laboratory, hosts these little interstitials.
Dr. Mainzer is excited about being part of this program and sparking kids' interest in space and space exploration. Her own interest began when she was 6 and she has followed the stars ever since.
The show focuses on teamwork, and as Dr. Mainzer explained to the media, "Science is about teamwork. Science, there's a kind of a misconception that it's a lone scientist alone in a dark laboratory with a lab coat and big glasses and all that, and nothing could be further from the truth in my experience."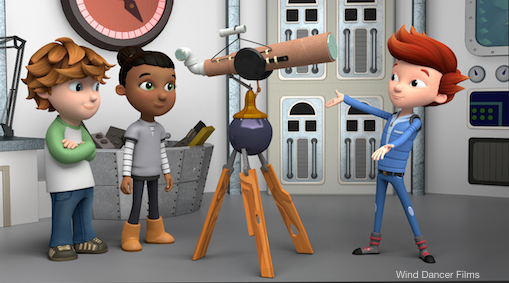 Dr. Mainzer said, "Basically, you're working with a big group of people that try to solve some really complicated problems, and you're joking around and you're laughing. And the sense of humor is what allows you to survive the tough times, right? So that's, I think, one of the things we want to convey through the show, is that science is about teamwork, cooperation, working together, trying to solve hard things. And if you do that, you can actually find solutions to some really difficult problems."
When she was a kid, Dr. Mainzer researched on her own and admitted, "This is the show that I would have wanted to have when I was a kid. This was the show I was looking for but couldn't find. And it was really lucky that I had a very supportive mom. As I like to say, my mom knows probably more about liquid helium than a lot of physics graduate students do, because she was a great listener. And it just goes to show, you don't have to have parents and family who are in the sciences, who are in engineering, to produce somebody who goes on to become a STEM professional science, technology, engineering, and math."
Jet is a hero to earthlings Sean, who is really into science, and Sydney, who is into science fiction. And another earth girl is little Mindy, a 4-year-old who isn't allowed to go farther than the neighbor's backyard, so she has to stay on Earth when the others take off in the flying saucer. But she's OK with that. However she might be in for some out-of-this-world adventures in the second season. (A little tidbit from the producer.)
And yes, while the kids work together they have fun too, and there are plenty of great songs in the show as well. Plus, each episode has a curriculum like the sun is at the center of our solar system, failure is not he opposite of success but is a stepping stone to success, there are different kinds of stars, etc.
Ready Jet Go! premiers Monday, February 15, 2016 on PBS. Blast off with this new series filled with fun characters and interesting facts. This is something parents will enjoy watching with their kids – and might learn something too!
About the Author
Francine Brokaw has been covering all aspects of the entertainment industry for 20 years. She also writes about products and travel. She has been published in national and international newspapers and magazines as well as Internet websites. She has written her own book, Beyond the Red Carpet The World of Entertainment Journalists, from Sourced Media Books.
Follow her on Twitter